Senate Democrats Press Mnuchin to Be Tough on China
(Bloomberg) -- Top Senate Democrats called on Treasury Secretary Steven Mnuchin to hold an aggressive line in trade talks with China as he prepares for another round of negotiations in Beijing later this month.
"As Secretary of the Treasury, you certainly have a keen understanding of the impact of China's rapacious trade tactics on our economy and American jobs," Senate Minority Leader Chuck Schumer said in a letter to Mnuchin dated Feb. 1. It was also signed by Senators Ron Wyden and Sherrod Brown, the top-ranking Democrats on the Finance and Banking committees.
They urged Mnuchin to pursue concessions from China on what they called "predatory trade practices," including forced technology transfers and espionage that results in the theft of U.S. intellectual property.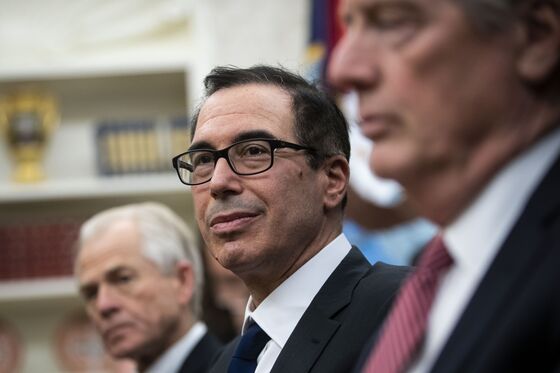 Mnuchin has sought a more conciliatory tone with China than some of President Donald Trump's other lead negotiators, including U.S. Trade Representative Robert Lighthizer and White House trade adviser Peter Navarro. Trump said Thursday that Mnuchin and Lighthizer will travel to Beijing in mid-February to continue negotiations ahead of a March 1 deadline for a deal to avoid a threatened hike in U.S. tariffs.
The two sides, which met in Washington this week, made important progress during talks that were candid, specific, and fruitful, according to a statement published by China's Xinhua News Agency. China agreed to increase imports of U.S. agriculture, energy, industrial products and services, it said, without providing details. The countries also agreed to strengthen cooperation on intellectual property rights and technology transfer, Xinhua said.
In a statement Thursday, the White House didn't list any new commitments by either side, saying only that progress had been made and "much work remains to be done."
Trump's hard line against China marks a rare point of agreement between Democrats and the White House. Schumer has consistently praised Trump's trade stance.