Missing Word in Clarida Speech Creates Some Mystery on Fed Rates
(Bloomberg) -- Federal Reserve Vice Chairman Richard Clarida omitted what may -- or may not -- be a critical word from his speech on Tuesday: some.
At the tail end of his address to a conference in New York, Clarida said he supported "gradual policy normalization.''
That was roughly in line with the Nov. 8 statement by the Federal Open Market Committee that "further gradual increases'' in interest rates would be consistent with a sustained economic expansion and inflation near the Fed's 2 percent goal.
But it was a different formulation than Clarida used in his maiden speech as a Fed policy maker a month ago. Speaking in Washington on Oct. 25, the Fed's No. 2 official not once but twice said that "some further gradual adjustment'' in rates would likely be appropriate.
Reading very much between the lines at the time, Fed watchers took that as a sign that Clarida was suggesting that the central bank was nearing the end of a rate-hiking campaign that began in December 2015. And a few even speculated that the FOMC would adopt that wording in its next statement to be issued after its policy-making meeting on Dec. 18-19.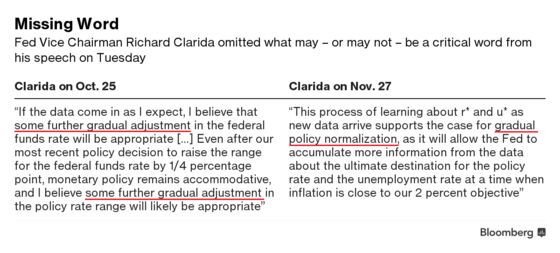 Now, the only thing that seems all but certain to economists is that the central bank will bump up the benchmark interest rate by another quarter percentage point by year end, to a range of 2.25 percent to 2.5 percent. Whether some other signal is coming from the Fed next month is anyone's guess.