Suga's Misjudgment of Economy-Covid Balance Dooms Premiership
Japanese Prime Minister Yoshihide Suga's decision to step down as leader largely reflects his failure to balance the goals of containing Covid-19 and protecting the economy.
His strategy of trying light restrictions for longer to limit the impact on companies helped the economy avoid another recession, but stretched the patience of bar and restaurant owners singled out for stricter rules. Consumers also grew weary of an on-again-off-again state of emergency that has been losing its effectiveness to contain activity.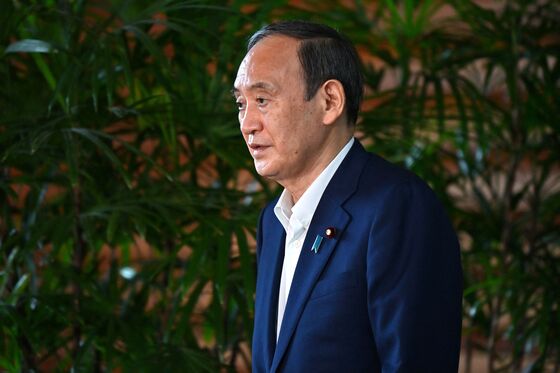 With extra spending and Bank of Japan lending programs, Suga kept bankruptcies and unemployment at remarkably low levels. But after less than a year on the job, there's still no end in sight either for the pandemic or Japan's emergency policy measures -- there are even calls for more.
His abrupt departure leaves climate change and digitalization promises on the table and a host of long-standing issues on the back burner including mounting public debt, a shrinking population and falling prices. 
Markets welcomed his resignation, with stocks soaring to a 30-year high amid hopes his replacement will start his or her tenure with a big spending package to shore up growth while leaving the BOJ, under Governor Haruhiko Kuroda, to keep pumping out stimulus.
"Suga's communication style -- repeating the same answer and giving off-point responses -- frustrated people," said economist Harumi Taguchi at IHS Markit. "His successor will need to present a detailed roadmap for reopening the economy as the vaccination drive proceeds."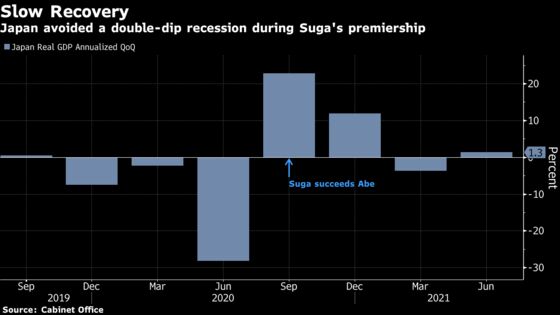 From the get-go last September, Suga gave the impression of being a laconic details man rather than a charismatic leader with a big picture of the economy. 
Having seen how slowly Japan's paper-heavy administration dished out pandemic cash in 2020, Suga insisted he would accelerate moves to digitalize government services and the economy. But his digital agency only launched this week. 
Similar online glitches and staffing issues contributed to the initial slowness of the vaccination program this year, as some local governments preferred to stick to the formula of the mailbox rather than the laptop or phone to send key information to taxpayers.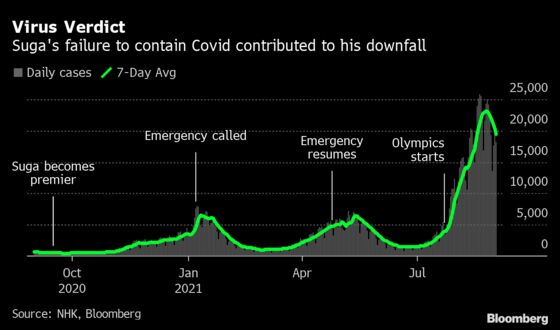 What Bloomberg Economics Says...

"Japan may be about to get a new prime minister -- but even if so, don't expect a major shakeup in macro economic policy. With the economy facing increasing pressure from the delta variant outbreak, the government...is likely to feel strong pressure to turn up fiscal stimulus to keep the recovery going."

--Yuki Masujima, economist

For the full report, click here
While he promised to continue the Abenomics growth policies of his predecessor, putting more money in people's pockets made more sense to Suga than pushing up inflation. 
His domestic travel subsidies and his drive to lower mobile phone charges weighed heavily on prices, driving Japan's consumer price index away from a 2% target and back into negative territory while the rest of the world headed in the opposite direction.
A new leader will help the ruling party secure a firmer grip on power and a better result in a looming general election, said economist Yuichi Kodama at Meiji Yasuda Research Institute. 
Whoever the next premier turns out to be, the government is unlikely to steer sharply away from its current mix of monetary and fiscal stimulus measures, he said. 
"There will be no talk of changing the BOJ's monetary policy in the near future because everyone has seen how Kuroda's easing boosts stocks and nobody wants to change that," Kodama said. "Still, it's a pattern that a new prime minister likes to start by launching a large firework. That would likely mean an overall stimulus package that could be around 30 trillion yen ($273 billion)." 
Suga's departure also leaves his biggest goal of transitioning the economy to a more sustainable future up in the air with few specific details of how Japan will achieve carbon neutrality by 2050. Progress toward that goal could also help address other issues.
"Japan can't stop its population decline so its No. 1 task is to boost its potential growth rate," Kodama said. "Digitalization and green initiatives hold the key to that."