Hurricane Michael Lashes Florida With Wind Speeds Among Highest in History
(Bloomberg) -- Hurricane Michael became the strongest storm to hit the U.S. mainland since 1992, and one of the four most intense in history, with winds that reached 155 miles per hour as it made landfall in Florida.
The wind speed was just two miles an hour shy of Category 5 status when it hit. Michael began losing strength as it moved over land, dropping to a Category 3 storm with 125 mile-an-hour (200 kilometer) winds as it started a quick march northeast toward Georgia and the Carolinas -- a region still recovering from Hurricane Florence.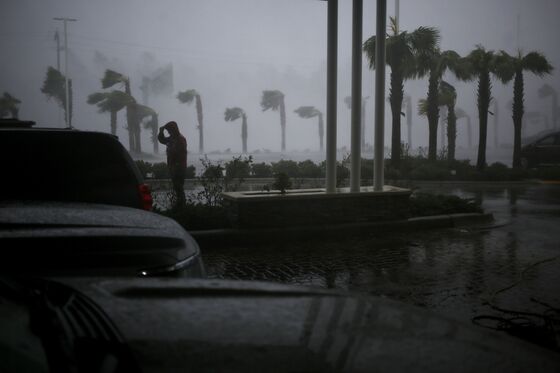 "A storm like this could be a once-in-a-lifetime event," said Brett Rathbun, a meteorologist with AccuWeather Inc. in State College, Pennsylvania. "Winds of this intensity can really knock down any tree or structure in its path."
Michael is expected to cause as much as $16 billion in damage after coming ashore near Mexico Beach, Florida. About 300,000 homes and businesses in three states have lost power, according to U.S. Department of Energy, regional ports were closed and almost 300 flights have been canceled. The storm also shut-in 42 percent of oil and 32 percent of natural gas production in the Gulf of Mexico.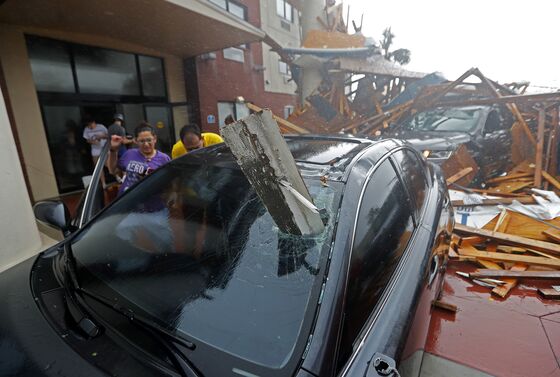 An estimated 325,000 Floridians were urged or ordered to evacuate, Brad Kieserman, vice president of disaster services operations and logistics for the Red Cross, said in a media briefing Wednesday. Only 5,000 or so have showed up at shelters, suggesting that a large number of people ignored officials' advice, he said.
"It didn't give anyone time to do much," Kieserman said, referring to the storm.
Jeff Byard, the Federal Emergency Management Agency's associate administrator for response and recovery, offered another explanation: People who survived previous storms without evacuating sometimes assume they'll be able to do so again.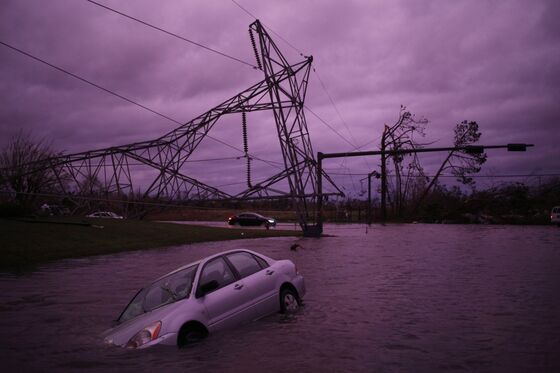 Michael is the strongest storm to hit the mainland since Andrew's 165 mile-per-hour winds in 1992. The other storms to surpass Michael were Camille in 1969 and the Labor Day storm in 1935. Maria in 2018 was virtually identical to Michael with 155 mile-per-hour winds when it hit the island of Puerto Rico.
Tyndall Air Force Base near Panama City, Florida sustained "extensive damage" after taking a "direct hit" from Hurricane Michael, the base said on its Facebook page.
"The storm brought down trees and power lines. It removed roofs from buildings and caused significant structural damage," the base said, adding the condition of runways were unknown. No deaths were reported, according to the post.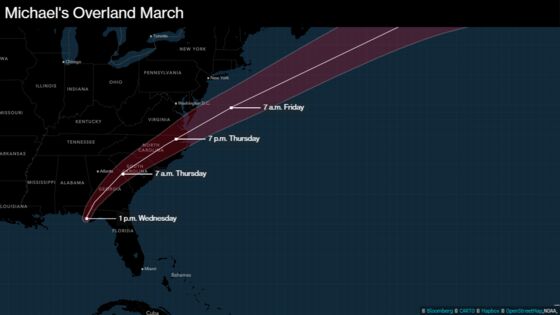 Last month's Hurricane Florence had winds of as much as 137 miles per hour off the U.S. coast, but dropped in intensity prior to the storm's landfall in the Carolinas. Now known more for its rains than the strength of its winds, Florence caused devastating floods, killed at least 39 and caused about $45 billion in estimated damages.
Michael, hitting in a less populated area, is "a different monster than Florence," said AccuWeather's Rathbun. Rather than lingering in one region as Florence did, inundating the Carolinas with rain, Michael is expected to race north to Georgia by Thursday, and reach the coast of Massachusetts by the weekend, he said.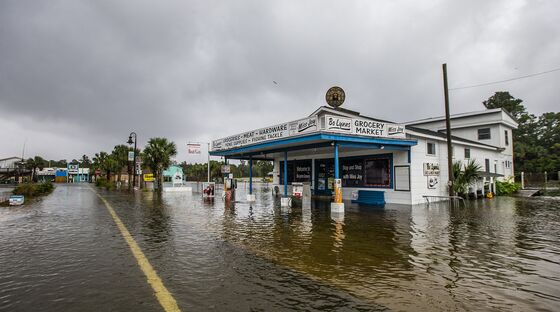 Other effects of the storm: 

Rainfall totals of 4-to-8 inches (10-to-20 centimeters) could complicate harvest of cotton in Georgia and the Carolinas at a time when most of the crop's bolls have opened, said David Streit, an agricultural meteorologist for Commodity Weather Group. Cotton prices fell 0.3 percent Wednesday. 
The storm has the potential to muddle American economic figures for months, making it harder to get clean signals on employment, industrial production and consumer spending, especially on the heels of Florence. Michael's landfall coincides with the Labor Department's reference period for the surveys on monthly payrolls and the national unemployment rate.
Flooding may affect areas that supply 30 percent of the U.S. chicken market including Georgia, the largest chicken-producing state in the nation.
At least 22 senior leadership roles at the Federal Emergency Management Agency are vacant or occupied by staff temporarily filling those positions as the storm hits.