Mexico Economy Unexpectedly Grows in Sign of Quicker Rebound
(Bloomberg) -- Mexico's economy unexpectedly expanded in the first quarter driven by service activities, suggesting its recovery retains some momentum as the vaccination campaign advances.
Gross domestic product rose 0.4% from the previous quarter, according to preliminary data from the national statistics agency published on Friday. Economists surveyed by Bloomberg expected no growth for the period, in line with what central bank Deputy Governor Jonathan Heath predicted earlier this week. On an annual basis, GDP fell 3.8%.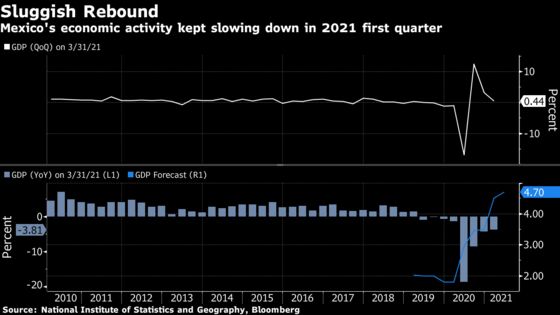 Latin America's second-largest economy has been losing steam since the fourth quarter of 2020, after a strong rebound between July and September. While growing U.S. appetite for Mexican exports will continue to support its recovery, a surge in Covid-19 cases hurt domestic demand in the beginning of the year. Meanwhile, President Andres Manuel Lopez Obrador has refused to increase public spending, leaving to the central bank the task of providing stimulus with interest rates near all-time lows.
"Halfway through this year we'll find ourselves in the same economic situation we had before the pandemic," Lopez Obrador told reporters after the data was released, forecasting GDP to grow between 5% and 6% in 2021. "We are recovering jobs and doing well."
What Bloomberg Economics Says

"Growth was still positive but lost momentum, mainly due to base effects and transitory headwinds on manufacturing. Strong U.S. demand and abating infections and lockdowns still support expectations for the economy to continue recovering this year. Tight fiscal policy and reforms that undermine business confidence were a drag in the first quarter and do not contribute to the positive outlook."

--Felipe Hernandez, Latin America economist

Click here for the full report.
Services grew 0.7% from the previous three-month period, while agriculture fell by 1.3% and manufacturing remained flat, according to the statistics institute.
Economic activity is expected to pick up in the next few quarters, with GDP expanding 4.5% this year, according to the latest central bank survey of economists. That will depend, however, on the success of Mexico's immunization campaign and the level of investor confidence in the country after a series of interventionist reforms pushed by Lopez Obrador.
Mexico's exports to its northern neighbor are poised to boost its manufacturing and food industry going forward. President Joe Biden's infrastructure plan could support key industries like cement while the tourism sector awaits a surge of vaccinated American tourists.
Yet tailwinds from both services and the U.S. economic reopening may prove to be temporary, according to Alberto Ramos, chief Latin America economist at Goldman Sachs Corp.
"Exports and remittances are likely to see a boost, maybe also the tourism industry," he said. "But this doesn't mean that Mexico found a path toward strong growth. As soon as investments and the boost of a demand that's recovering from Covid disappear, the country will go back to mediocre growth."
Complicating matters, Lopez Obrador has pressed on with reforms to the energy and oil sector, on top of changes to outsourcing laws which analyst fear could discourage foreign investment.
"These reforms are causing a confidence shock and have heightened the uncertainty of doing business while increasing costs," said Ernesto Revilla, head of Latin American Economists at Citigroup Inc., in an interview ahead of the GDP data.
In 2020, Mexico posted a 8.2% decline in economic activity, the worst contraction in almost a decade.