Goldman and Barclays Boost Mexico Growth Calls on U.S. Demand
Analysts from Goldman Sachs & Co. to Barclays Capital Inc. see Mexico's economy growing faster this year after a better-than-expected first quarter bolstered by strong U.S. demand and the services sector.
Barclays on Wednesday boosted its 2021 growth projection to 6% from 5%, while Goldman Sachs increased its forecast to 5.9% from 5.3%. The economy will return to pre-pandemic levels in the third quarter of next year, Barclays' chief Latin America economist Marco Oviedo said.
Gross domestic product rose 0.8% in the first three months of 2021 compared to the previous quarter, according to final data from the national statistics agency released earlier in the day. The agency's preliminary GDP estimate in April put growth at 0.4%, while economists surveyed by Bloomberg expected a 0.7% rise.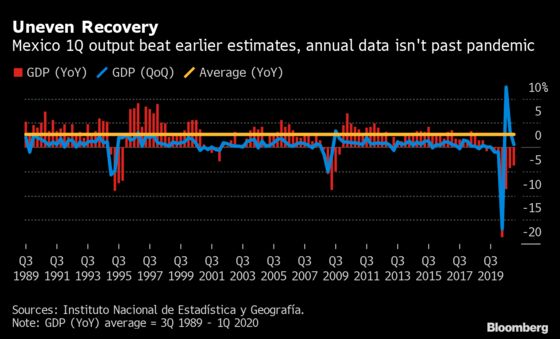 Economic activity in March rose 0.75% from a year prior, the biggest increase since 2019, as the services sector took off while coronavirus cases and deaths plunged, according to a separate release. The data suggests the economy hit bottom in January and February and is now gaining speed, said Oviedo.
Latin America's second-largest economy had lost some steam in the past few months after a strong rebound between July and September 2020. While growing U.S. appetite for Mexican exports kept the recovery going, a surge in Covid-19 cases in January and February pummeled domestic demand.
Despite the headwinds, the services sector climbed 0.9% in the first quarter, while industry rose 0.5%, according to the national statistics agency.
"We expect the recovery to continue and firm in 2021 supported by further easing of social distancing protocols with the vaccination of a significant part of the general population," chief Latin America economist Alberto Ramos wrote in a note to clients, adding that the recovery will be supported by U.S. growth, trade and the delayed effects of central bank interest rate cuts.
Mexico's exports to its northern neighbor are poised to boost its manufacturing and food industry going forward. President Joe Biden's infrastructure plan could aid key industries like cement, while the tourism sector awaits a surge of vaccinated American tourists. Mexico's trade balance surged to $1.5 billion in April on strong demand for non-oil exports, eclipsing expectations for a $600 million loss.
Still, investor confidence remains weak after a series of interventionist reforms pushed by President Andres Manuel Lopez Obrador, who has declined to boost public spending to help the economy. Foreign direct investment fell 29% in the first quarter compared to a year earlier, according to central bank data.