Mexico Raises Key Rate as Inflation Stays Above Target
(Bloomberg) -- Mexico's central bank raised interest rates to the highest level since 2008 as a peso rout and high energy prices kept inflation above the official target range.
Led by Governor Alejandro Diaz de Leon, Banxico increased borrowing costs 25 basis points to 8.25 percent, in line with 17 of 25 economists in a Bloomberg survey. The rest saw rates on hold. The central bank warned in its statement Thursday that the inflation outlook has deteriorated, that there are risks of second-round effects on prices, and that measures should be taken to buoy investor confidence.
The central bank has extended a hiking spree to just over three years now, after the nation's currency plunged following President Andres Manuel Lopez Obrador's decision to cancel a $13 billion airport already under construction. Inflation has also persisted above the 4 percent upper limit of the target range as farm and energy prices kept rising. But it's the policies of Mexico's new leftist president, such as a recent push to raise the minimum wage, that have both economists and policy makers watching closely for impacts on monetary policy.
"It was a hawkish hike," said Alonso Cervera, chief Latin America economist for Credit Suisse. "There's nothing in the statement that suggests the bank is done hiking."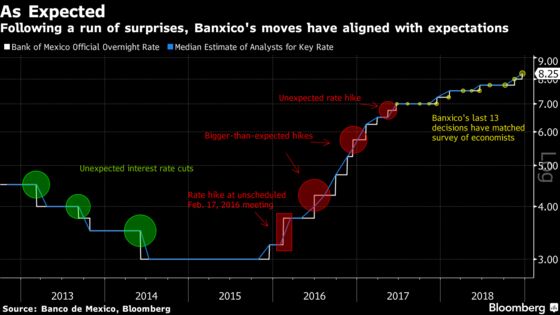 In addition to raising alarms about inflation and a deterioration in the economic growth outlook, Banxico warned against policies by the new administration that could increase market uncertainty. "It's particularly important that in addition to continuing a prudent and firm monetary policy, that the adoption of measures that foment an environment of confidence and certainty for investment be promoted along with higher productivity, and that sustainable public finances are consolidated, reinforcing transparency and accountability."
Mexico's new president has pledged to keep Banxico autonomous, but is also planning a steep rise in spending on social programs in his 2019 budget. The budget is largely seen as prudent by the market, although Moody's Investors Service said it lacks a cushion in case of economic shocks. Other skeptics wonder if the president would cut spending in case of a revenue shortfall.
Banxico is forecasting higher inflation than before Lopez Obrador won the July 1 election, and last month warned of new risks, such as the possibility public policy decisions would generate a loss of confidence in Mexico as a destination for investment. In addition, inflation slowed far less than expected in November.
Thursday's decision was the last one before board member Manuel Ramos Francia, generally regarded as hawkish, retires and Harvard-trained Gerardo Esquivel, who has floated the idea of a dual mandate for the central bank, likely secures Senate confirmation.
Also expected to join the board that's been short one member since Roberto Del Cueto recently resigned, is Jonathan Heath, who's spent more than three decades as an independent economic researcher and at firms including HSBC. Lopez Obrador tapped both Heath and Esquivel. Esquivel had been then president-elect's deputy finance minister designee, working on the spending portion of the budget before Del Cueto's resignation prompted Lopez Obrador to shift his assignment to Banxico.
"There's a regime shift," Gabriel Lozano, chief economist at JPMorgan Chase & Co, said before the rate decision. "You can't send a more relaxed monetary policy signal when you don't know what will happen in a few months."