Mexico Is the Winner in This Corner of Trump's China Trade War
(Bloomberg) -- Sweden's Dometic AB, a maker of cooling systems and air conditioners for recreational vehicles and trucks, is opening a plant in Mexico in response to U.S. President Donald Trump's trade war on China.
The company, which gets 57 percent of its sales in the Americas, aims to open the Mexico plant in March and is moving some production from China to evade new tariffs, Chief Executive Officer Juan Vargues said in an interview. The company will keep its Chinese plants busy by moving some output of goods not on the tariff list from the U.S. to China.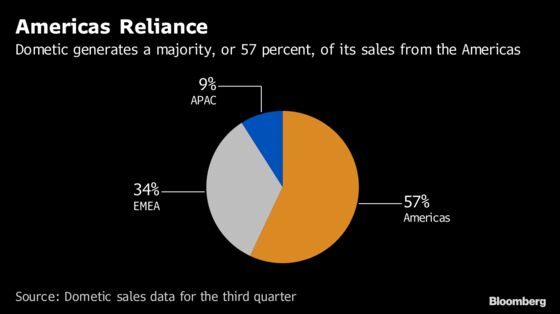 Dometic had already planned to move some production from the northern U.S. to the southern part of the country or across the border to Mexico, but Trump's decision in September to introduce tariffs on another $200 billion in Chinese goods changed all that.
"If you'd asked me nine months ago I would have said that we have too many plants in the northern part of the U.S. and that we may need to move some capacity to the southern part of the country or south of the border," Vargues said. "Then Mr. Trump came out on Sept. 24 and the decision was taken, and then the order of priorities change."
The Mexico plant is part of a broader review that the CEO said will lead to closing some of its 28 production facilities worldwide. Vargues took the helm at the end of last year and is now planning cost cuts to boost profitability and free up capital for acquisitions as well as broadening the company's customer base.
"We have no production in low-cost areas in the Americas and I can't see us being a company that only produces in high-cost countries," he said. "We need to have assembly close to our customers. In this industry, adjusting to customers' specifications is important and you can't always do that in China for U.S. customers."