Mexico Cuts Key Rate for Fifth Time, Flags Economic Weakness
(Bloomberg) -- Mexico's central bank cut its key interest rate for a fifth straight decision, saying that economic growth is likely to be less than it previously projected.
Banco de Mexico reduced its rate to 7% on Thursday, as forecast by all 27 economists in a Bloomberg survey. The decision was unanimous, the first time all five board members have been in agreement since last May. Deputy Governor Gerardo Esquivel, who voted for half-point cuts in the prior three meetings, abandoned that stance.
In its statement, the board said inflation is likely to be moderately faster, and growth less, than in its most recent quarterly report. Even after reducing the key rate by 1.25 percentage point since August, Mexico has one of the highest inflation-adjusted interest rate among Group of 20 nations, meaning there's plenty of space to loosen monetary policy.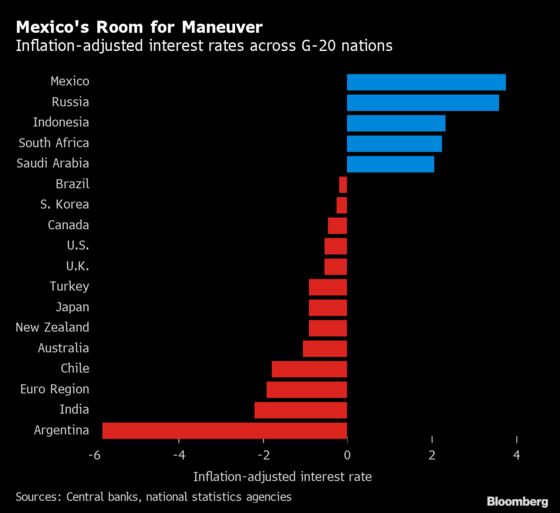 "We maintain our view that Banxico will have room to cut rates to 6% by year-end," said Rafael de la Fuente, the chief economist for Latin America at UBS Group AG. "There may be scope for a pause before then if inflation temporarily surprises to the upside, but today's statement suggests to me that they will look through a moderate increase in headline inflation."
The rate-setting statement was the shortest in recent memory after the central bank said it planned to streamline communication.
Mexico followed emerging-market peers including Brazil, Russia and South Africa that kicked off the year with rate reductions. Next week Indonesia is predicted to cut rates, and Turkish policy makers may also lower borrowing costs again.
Click here to read additional reports and research from Bloomberg Economics
Core inflation, which excludes more volatile food and energy prices and has been a recent focus for the central bank, quickened in January and remains above policy makers' 3% goal. That may keep the board with more a measured approach to any future easing.
Policy makers have been lowering rates since August as declining oil output and uncertainty over President Andres Manuel Lopez Obrador's policies stalled the economy. Investors have slashed Mexico's 2020 growth estimates to 1% from 1.7% six months ago after the economy contracted last year, according to preliminary data.
Mexico's peso has provided one point of stability. Often used by investors to bet on emerging markets due to its abundant liquidity, the currency last week touched the strongest level in nearly a year and a half. The main attraction has been the better yield on peso-denominated debt due to Mexico's higher borrowing costs.
The peso was little changed after the decision, gaining 0.1% to 18.6080 per dollar at 2:48 p.m. in New York.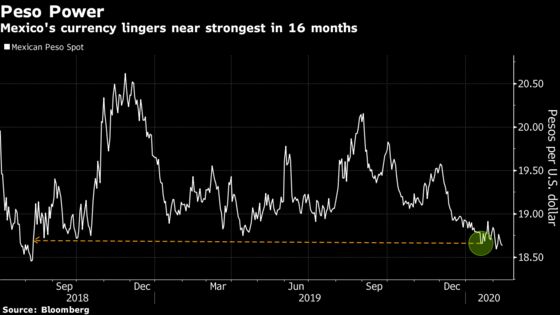 In the year to date, it's been the best performing major currency against the dollar despite global concern about the spread of the coronavirus.
Given Mexico's relatively high real rates coupled with economic weakness, analysts expect the central bank to slash borrowing costs by another half point in the rest of 2020, ending the year at 6.5%.
Read more about Mexico's economic stagnation
Despite the economic slack, some consumer price risks persist. Aside from its concern over core inflation, the central bank in its most recent quarterly report said it expects the headline number, which accelerated to 3.24% in January, to average 3.5% in the first quarter before slowing to 3% by year-end. Policy makers are scheduled to release their next report on Feb. 26.