Mexico's Unanimous Rate Cut Revives Bets of More Easing
(Bloomberg) -- Mexico's central bank unanimously voted to cut its key interest rate to the lowest point since mid-2016, leading economists to forecast more easing ahead as the country desperately needs stimulus.
Banco de Mexico, led by Governor Alejandro Diaz de Leon, chopped borrowing costs by a quarter point to 4% on Thursday, after core inflation remained stable in January, despite overall price increases accelerating above expectations. The cut was predicted by 16 of 22 economists surveyed by Bloomberg. The remaining six expected a hold.
"Recent information allows for a monetary policy adjustment while keeping inflation expectations in line with a trajectory converging to the 3% goal," the bank's five-member board wrote in a statement.
The bank has now lowered the key rate 12 times since August 2019 from 8.25%. It held rates at its last two meetings, after a record run of 11 straight cuts, to give itself time to see if inflation would consolidate below its 4% target ceiling. Prices have stayed below that level since November, notching 3.54% in January.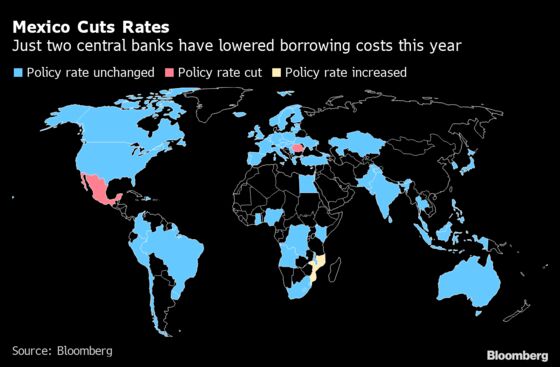 Read more: Mexico Inflation Quickens as Economists Predict Rate Cut
The unanimous decision makes it likely the board will cut again in March, said Alonso Cervera, chief Latin America economist at Credit Suisse. "It was more dovish than expected as it was unanimous," he said. "And there was no mention of the policy rate reaching a floor, or of the central bank having less space to cut in the future."
Banxico, as the bank is called, has provided Mexico's only significant stimulus during the coronavirus pandemic, which saw the economy plunge 8.3% last year. President Andres Manuel Lopez Obrador rejected heavy spending of the kind implemented by most of Mexico's peers, arguing that lower debt will hasten a recovery.​ That left the central bank to do the heavy lifting in fighting the sharpest contraction since the Great Depression of the 1930s.
The peso erased some gains after Thursday's rate decision, but strengthened again to climb 0.4% on the day.
"There are 50 bps of cuts still in the pipeline," said Jessica Roldan, chief economist at Finamex, noting the "positive" news that the bank's projections for inflation are mostly unchanged.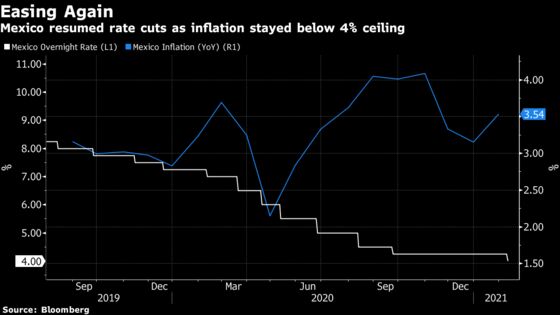 The decision shows a willingness to ease rates from new Deputy Governor Galia Borja, who participated in her first monetary policy decision Thursday, and whose views on interest rates are little known.
"The consensus on this decision would make me think that the easing cycle is live again," said Marco Oviedo, chief Latin America economist at Barclays, who had predicted a hold on Thursday.
The bank said it expected core inflation, which excludes volatile prices like fuel and is closely watched in Mexico, to slow close to its 3% target in the third quarter.
"We expect a climb in headline inflation in the second quarter of the year, associated principally with arithmetic effects in last year's fuel price reductions, and a decreasing trajectory after the second quarter," the bank wrote in the statement.
Read more: Mexico January Consumer Price Index: Summary (Table)