Mexico's Finance Chief Confident of 2020 Economy Turnaround
(Bloomberg) -- Having suffered the worst economic performance in a decade last year, Mexican Finance Minister Arturo Herrera sees reasons to be more optimistic about Latin America's second-largest economy in 2020.
In his first sit-down interview with English-language media this year, Herrera says that after almost a decade of expansion since the global financial crisis, last year's 0.1% contraction was more natural and in line with disappointing economic activity worldwide. Now, things are looking better.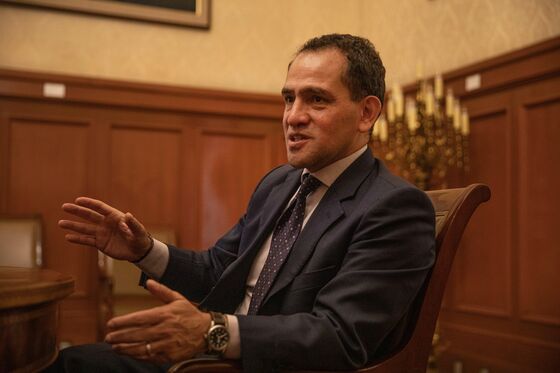 His argument goes: inflation and debt levels are in check, the peso is stable, and the troubled state oil company known as Pemex has halted a production decline. The main boost for the country comes from the ratification of the reworked North American free trade agreement.
"The Mexican economy's performance is very different with this agreement," he told Bloomberg News at the National Palace in Mexico City on Monday. "This is one of the great advantages we have now."
Production chains may invest more in North America based on the certainty created by the treaty, known as USMCA, especially as competitors in Asia are beset by trade wars and a health crisis, he said.
Read More: USMCA Ratification More Relief Than Opportunity For Mexico
Herrera's ministry has even kept its 2% growth forecast for the year, although he won't say whether that will change when it reports a preliminary budget proposal to congress in April.
His optimism isn't fully shared by Mexico watchers. Economists have been steadily reducing the country's 2020 growth estimates to an average of just 1% from 1.7% six months ago, with Bank of America Corp. even forecasting an expansion as little as 0.5%.
Growth in 2020 may be stronger than 2019 due to the recent stabilization in oil output and some recovery in construction, but it won't return to levels of recent years, said Alonso Cervera, chief Latin America economist at Credit Suisse Group AG in Mexico City, who forecasts a 0.7% expansion.
"I'm not too hopeful of a strong recovery, and neither is the market," Cervera said. "The main issue behind the weakness in the Mexican economy is gross fixed investment, which is a function of fiscal austerity on the public sector side and subdued confidence in the private sector."
Gross fixed investment, which includes company spending in factories and machinery, ran down last year to levels not seen since the 2009 global crisis.
Herrera says that an area that is likely to provide more stimulus is monetary policy: Subdued inflation and peso stability mean Mexico "clearly" has room to keep cutting interest rates.
"I'm not the only one saying it. It's something that's said by the Western Hemisphere director of the International Monetary Fund," Herrera said.
Banco de Mexico has been lowering its policy rate since August as declining oil output and uncertainty over President Andres Manuel Lopez Obrador's policies stalled the economy. Even after reducing the key rate by 1.25 percentage point since August, Mexico has one of the highest inflation-adjusted interest rates in the world.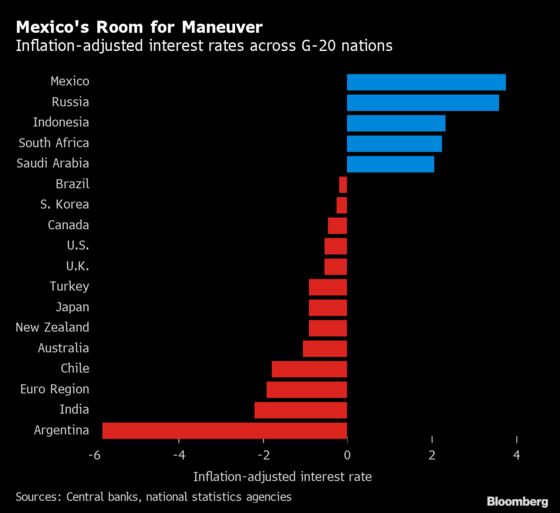 Analysts expect the bank to cut borrowing costs by another half percentage point in the rest of 2020, ending the year at 6.5%.
Alejandro Werner, the Western Hemisphere director of the IMF, said last month that Mexico has "significant space" to keep cutting interest rates to bolster growth, noting that other Latin American countries have reduced borrowing costs recently.
Herrera said his ministry is informally polling banks and companies on their financing choices, including asking why several bond sales this year have been issued in dollars rather than pesos. He said some have responded that the market is too concentrated in a few large pension funds known as Afores, leaving less space for local issuances.
Inflation ended 2019 at 2.83%, the second-lowest December rate in the 2000s. It has rebounded slightly to 3.24% last month, but is still within the central bank's target range of 3%, plus or minus one percentage point.
The strength of the Mexican peso, which on Monday reached its highest intraday level in almost a year and a half, is explained by factors including the government's fiscal responsibility and the nation's relatively high interest rates, Herrera said.
He also reiterated the government's commitment to a "stable" and "flexible" currency. The peso is the best performing major currency against the dollar so far this year.
"It's very risky for somebody to start playing with the exchange rate policy," he said. "It has cost Mexico a lot of work to understand this and we're very respectful."