Merkel Warns Virus Spike Leaves No Room to Ease Restrictions
(Bloomberg) -- Chancellor Angela Merkel ruled out any further loosening of virus measures, saying that a doubling in the number of daily cases in Germany in the last three weeks needs to be brought under control.
Europe's largest economy recorded the biggest increase in coronavirus cases in nearly four months on Tuesday, fueling fears about a resurgence of infections across the continent.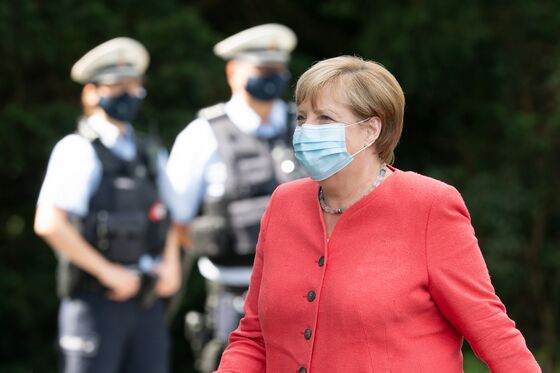 The recent trend "should not continue and we need to contain it," Merkel said in Dusseldorf, adding that fines will need to be levied for people flaunting hygiene and social-distancing rules. "We are in the midst of the pandemic," she said in her first public comments since the recent uptick in Germany.
European officials are already tightening restrictions on movement again in an effort to prevent summer partying and travel from spreading the disease. Spain and Italy have shut nightclubs and Greece limited hours for bars and restaurants to try to avoid more drastic measures after the holiday season winds down.
Germany is requiring people returning from heavily affected areas to quarantine for two weeks or present a negative test to thwart the disease from spreading in schools and workplaces.
"More mobility and contact between people leads to higher numbers of cases," Merkel said. "The virus is here, even if it's not visible. There's no vaccine and no medication."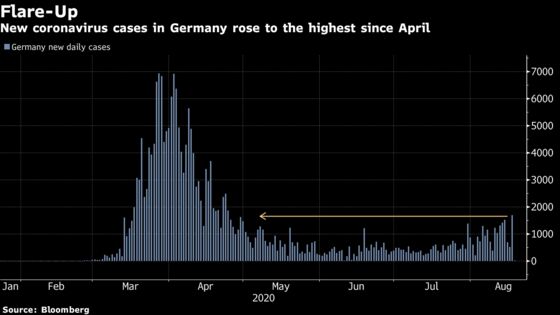 European governments are desperate to foster a recovery after activity collapsed in the second quarter, but a failure to act decisively to prevent a widespread resurgence could mean more pain for the economy later on. Austria tightened travel restrictions and mobilized troops to bolster containment efforts, while the Netherlands clamped down on group gatherings.
In France, Labor Minister Elisabeth Borne announced that mask-wearing will be obligatory in most indoor work areas, including meeting rooms, lobbies and open-plan offices. The government is also encouraging employees to work from home whenever possible.
President Emmanuel Macron urged French citizens to stick to containment rules. "In the weeks to come, we will have to continue fighting a health crisis which is taking another form," Macron said. "The virus is accelerating again, so a lot of vigilance is required."
In the Netherlands, Prime Minister Mark Rutte said the fight against the pandemic was not going well. He advised limiting private gatherings to no more than six and recommended that people continue to work from home after Sept. 1. Amsterdam will announce additional local measures to stop the spreading later Tuesday, he said without providing details.
A total of 4,013 new Covid-19 cases were confirmed in the country in the past week, somewhat less than the 4,036 reported in the seven days before, the RIVM Dutch National Institute for Public Health and the Environment said on Tuesday.
Spain, where there has been a steady increase in new infections since late July, reported 2,128 new cases on Tuesday, a rise from 1,833 a day earlier. The Health Ministry has blamed nighttime socializing for fueling new outbreaks and endangering the government's bid to revive the country's $175 billion tourism industry.
The latest blow came from Austria, which issued a travel warning for the popular Balearic Islands as of Monday, Chancellor Sebastian Kurz said at a press briefing. The move means returnees have to go into quarantine if they can't provide a negative test no older than three days.
The government will offer free tests at airports and is deploying 500 additional police and 800 soldiers at its land borders to check returnees from Croatia and other high-risk areas.
Austria recorded 295 new infections on Tuesday, keeping the seven-day average at the level of mid-April. More than 2,200 Austrians currently have the virus, the most since the end of April and about six times more than in June.
Greece recorded a new record of 269 new Covid-19 cases on Tuesday. In total, Greece has reported 7,472 cases -- about 40% of those have come in August.
There are more encouraging signs elsewhere in Europe. Italy -- the original epicenter of the outbreak on the continent -- reported 403 new coronavirus cases on Tuesday, a slight rise from Monday but below numbers from a week ago.
Germany remains a primary concern. Credit risk advanced, with investors taking fright at the uptick in new cases. An index of default risk on Europe's highest quality companies rose and an equivalent measure for junk bonds also gained.
Daily Activity Indicators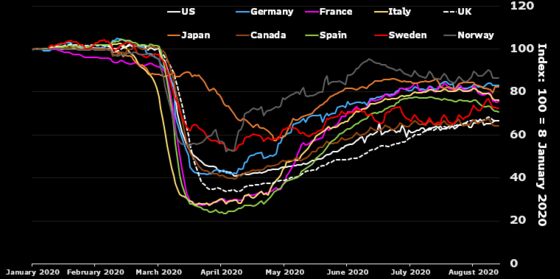 There were 1,693 new German cases in the 24 hours through Tuesday morning, the most since April 25, according to data from Johns Hopkins University. The number of daily cases reached almost 7,000 at the peak of the pandemic in the spring.
There have been a number of outbreaks in recent weeks in settings such as larger family events and leisure activities, as well as in educational and professional facilities, according to the country's Robert Koch Institute.
"If we can manage this, the good news is that there is a lot of public life that we can allow to happen," Merkel said.
Read more:
Polish Health Minister Quits Amid Scandal Over Virus Procurement