Merkel Advisers Demand ECB Exit Strategy as Inflation Risks Rise
Germany's council of economic advisers urged the European Central Bank to publish a strategy for normalizing its ultra-expansive monetary policy in light of building inflation risks.
The four-member group sees inflation in the euro-area's largest economy averaging 3.1% in 2021 and 2.6% in 2022, and warned that persistent supply-chain logjams and rising fuel prices could turn temporary factors into lasting higher rates of inflation.
"There are risks to the upside for the inflation outlook for the coming years," the advisers said in a report published Wednesday in Berlin. The ECB "should communicate a normalization strategy soon," with quantitative metrics for the unwinding of its ultra-loose policy.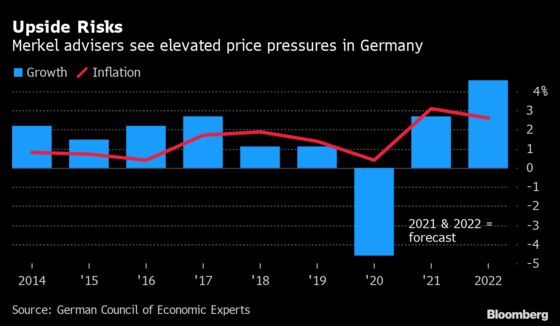 The recommendation comes against the backdrop of complex coalition talks in Berlin to replace outgoing Chancellor Angela Merkel, and at a time when the country's inflation rate is approaching 5%.
Popular tabloid Bild has published several articles criticizing the ECB's ultra-loose monetary policy, and there's also a vacancy atop the Bundesbank -- traditionally the guardian of German price stability -- after Jens Weidmann announced he's standing down.
Germany's relationship with the ECB has often been fraught. Christian Lindner, the pro-business Free Democrat politician pushing to become the country's next finance minister, warned last month that the bank must resist the temptation to help out highly indebted euro countries.
In their report, the German Council of Economic Experts suggested that the ECB could consider publishing something like the U.S. Federal Reserve's dot plot, a graphical representation of policy makers' projections of the target interest rate.
Although public spending was justified during the crisis, the economists said pandemic support measures should eventually be unwound, and debt-to-output ratios brought down.
Council members Monika Schnitzer und Achim Truger said a careful approach to fiscal consolidation was warranted, so as not to undermine growth momentum. The European Union's current set of fiscal rules could be too restrictive for some countries post crisis, they added.
The group sees the German economy reaching its pre-crisis level of output in the first quarter of next year, and growth accelerating to 4.6% in 2022 after 2.7% in 2021.
"Increasing inflation risks and the growing dependence of public finances on low interest rates in some member states could become a dilemma for monetary policy," they said.
"Historical experience shows how dangerous a monetary policy reaction that's too late" or half-hearted can be for the economy.