Markets Tell Fed Tightening Must Stop, Macquarie's Shvets Says
(Bloomberg) -- Financial markets are flashing a warning to the Federal Reserve that the global economy cannot withstand its monetary tightening, and will in coming months force a halt to the campaign, according to a veteran strategist.
"The problem is the Federal Reserve right now is destroying money" by letting some of its bond holdings mature without replacement, said Viktor Shvets, head of Asia strategy at Macquarie Commodities and Global Markets, a unit of Australia's biggest investment bank. "They will be forced at some point in time over the next three to six months to stop reducing the size of their balance sheet."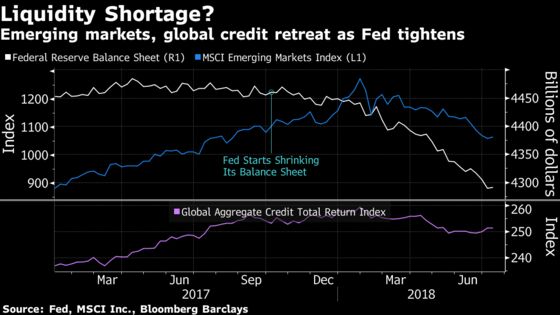 While the Fed has been focused on the appropriate size of its balance sheet as it unwinds its crisis-era easing, investors are responding more to the incremental change in monetary flows, Shvets said in a Bloomberg Television interview Wednesday. "It is clear, from the market, flow is far more significant than the size of overall accommodation."
Shvets's contention is that borrowing has become such an inherent part of the global economy now that markets and growth cannot withstand higher borrowing costs. By shrinking the monetary base of the world's de facto reserve currency, the Fed is imposing a global tightening, he said.
"The world and financial markets will force them to: a) stop trying to increase the cost of capital; and b) stop reducing the balance sheet at the same pace," said Shvets, who previously worked at banks including Deutsche Bank AG and Donaldson Lufkin & Jenrette.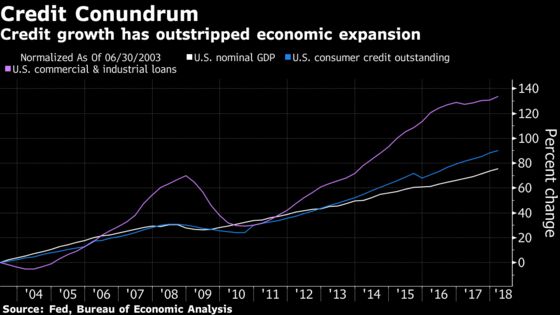 The Fed is currently shrinking its balance sheet by $40 billion a month, and is scheduled to increase that to $50 billion monthly starting in October. Fed officials also anticipate raising the policy interest rate twice more this year after seven quarter-point moves since late 2015.
"All cost of capital globally, eventually, will have to go negative," Shvets said. That's because of the "degree of leverage and financialization that we have globally," he said.