Bonds Rally in India With RBI's $50 Billion Liquidity Pledge
(Bloomberg) -- India's sovereign bonds rallied after the central bank slashed key interest rates and announced a liquidity infusion of as much as $50 billion to ease strains in financial markets.
The sweeping measures from the Reserve Bank of India come after trading in sovereign bonds collapsed and foreign outflows drove the currency to a record low. Some of India's most highly-rated companies have had to delay bond offerings as the nation entered a three-week lockdown that started Wednesday.
"The RBI has broadly delivered on the whole set of wish lists of the bond markets," said Vijay Sharma, executive vice president for fixed-income at PNB Gilts Ltd. in New Delhi. "These measures should make a meaningful and substantial impact on short-dated corporate bonds and, in general, on the whole credit curve."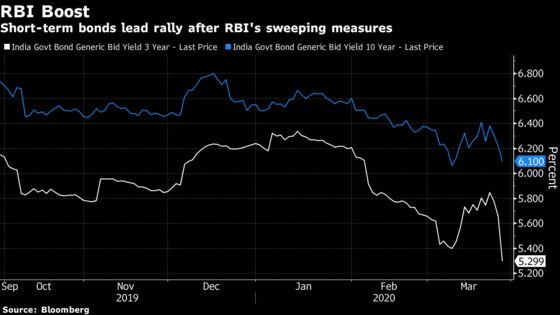 India's sovereign curve bull steepened after the RBI announcements, with the yield on three-year bonds plunging as much as 44 basis points. The yield on benchmark 10-year debt was down eight basis points after tumbling by as much as 24 basis points to 5.98%, the lowest since 2009.
The RBI's steps included targeted long-term repo operations of up to three years for a total of up to 1 trillion rupees ($13.3 billion). Banks will be able to invest in instruments, including investment-grade corporate bonds, a move aimed at cooling down short-term yields.
"The RBI has now put to rest the concern that it was failing to appreciate the required pivot to emergency conditions," Suyash Choudhary, head of fixed income at IDFC Asset Management Co., wrote in emailed comments.
The rupee pared gains and ended the day 0.3% higher 74.92 as of 5 pm in Mumbai after advancing by as much as 1.1% earlier as the dollar strengthened, and a reduction in interest rates by the RBI eroded the appeal of the carry trade. Stocks fell after rising initially as investor focus shifted to the nationwide lockdown.
The stimulus was largely "priced in" by equity investors, market participants said. The S&P BSE Sensex fell 0.4% at the 3:30 pm close in Mumbai, after gaining as much as 3.9% and dropping as much as 2% in a volatile trading day. The Nifty rose 0.2%
RBI's steps follow government relief measures worth 1.7 trillion rupees announced by Finance Minister Nirmala Sitharaman. India's economy is poised to shrink next quarter and full-year expansion set to suffer markedly, according to economists including from ING Groep NV and Deutsche Bank AG.
"The steps are necessary but not sufficient," said Ajay Bodke, chief portfolio manager at Prabhudas Lilladher Portfolio Management Service in Mumbai. The "government and RBI still need to come out with a comprehensive bailout package."