Invoking the Great Recession Is a Great Distraction
(Bloomberg Opinion) -- Well, that's a relief!
Malaysian Finance Minister Lim Guan Eng says a global financial crisis-style recession isn't likely today.
"The January 2019 price decline was not caused by recession or any kind of weak demand ... The same severe GDP contraction Malaysia suffered in 2009 is nowhere to be seen today."
Fantastic. But who says it's the same?
Throwing up a calamity where one doesn't exist distracts from serious debate about how to tackle the local impact of cooling global growth, a downdraft that can be attributed in large part to China.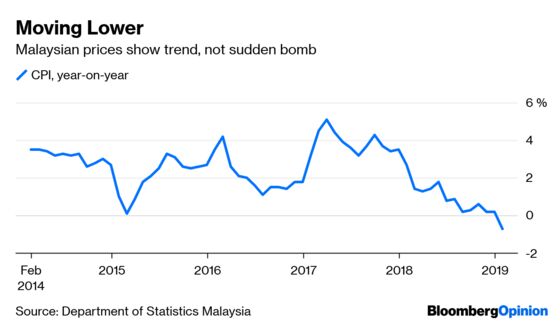 Lim doesn't want a dour narrative taking hold with Kuala Lumpur's new (in some ways, old) team still getting its sea legs. That's understandable. But Lim is focusing on the wrong target. A collapse in economic activity to rival 2008-2009 isn't the challenge.
The issue requiring attention is low inflation across Asia. Malaysia's 0.7 percent CPI drop is a difference of degree, not kind. In Indonesia, inflation is approaching the lower end of the central bank's target. Like the Philippines, it chased the Federal Reserve higher last year. That feels like a different era.
It's hard to imagine interest rates in Malaysia not coming down at the earliest opportunity. Bank Negara was always seen as a candidate to cut. If a drop in consumer prices – as opposed to a mere slowing of the pace of increases – doesn't seal the case, what will? 
Lim's Great Recession grenade gets in the way of understanding broader global macro currents. He's right in a narrow technical sense, yet wide of the mark in a substantive way. Inflation does risk getting too low in Asia. And the world, for that matter.
Malaysia isn't a major economy, though it isn't a minnow in Southeast Asia. The country will never be a global swing factor or immune from what's happening in bigger places. It didn't create the slackening we are now seeing.
It does have choices about what to do next. Here's a start: Stop with unhelpful comparisons.
This column does not necessarily reflect the opinion of the editorial board or Bloomberg LP and its owners.
Daniel Moss is a Bloomberg Opinion columnist covering Asian economies. Previously he was executive editor of Bloomberg News for global economics, and has led teams in Asia, Europe and North America.