Malaysia Hits Deflation for First Time Since 2009 Global Crisis
(Bloomberg) -- Malaysia's economy swung into deflation in January for the first time since the aftermath of the global financial crisis in 2009 as fuel prices dropped.
Consumer prices declined 0.7 percent from a year ago after hovering below 1 percent in the previous seven months, according to the statistics department. The median estimate in a Bloomberg survey of 21 economists was for a contraction of 0.4 percent.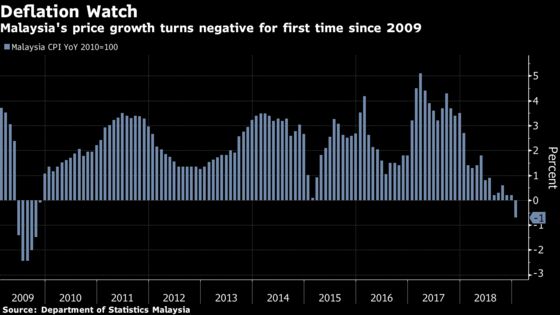 The government recently changed its fuel subsidy model by setting prices every week in order to reflect moves in global crude more quickly. This led to a 7.8 percent decline in transport costs in January from a year ago, the biggest drop of all the categories
While price pressures have eased, the government is still concerned that ordinary Malaysians haven't felt it in their wallets. Finance Minister Lim Guan Eng is looking for ways to see how deflation can drag down living costs
The central bank has kept interest rates unchanged at 3.25 percent since raising it in January 2018. Policy makers expect average inflation to trend higher this year
The last time Malaysia hit deflation was in June to November 2009. The economy contracted 1.5 percent that year
The cost of food and non-alcoholic drinks rose 1 percent in January from last year, driven by an 8.4 percent surge in the price of eggs and a 5.3 percent jump in chicken. Malaysia started an investigation in December into potential cartel activities in the industry
The capital Kuala Lumpur is the only state or federal territory that saw a CPI increase in January, with inflation at 0.2 percent