Majority of CEOs Around the World Aren't Recession-Tested
(Bloomberg) -- If you thought chief executive officers were the most prepared at handling the next economic catastrophe, think again: most of them were not at the helm during the global financial crisis of 2008, according to data compiled by Bloomberg.
Bloomberg approximated the length of leadership for regional equity markets by tallying up the number of years CEOs of benchmark index members have been in the role.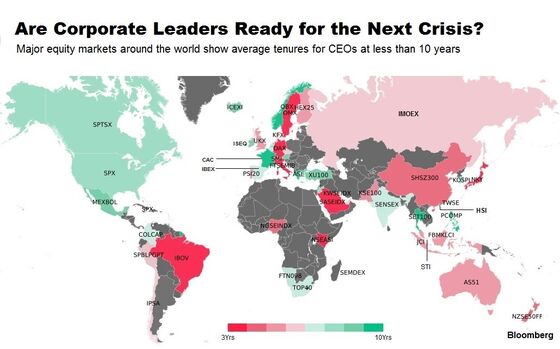 Even markets with the longest-serving CEOs: Greece, Hong Kong and Thailand, can barely boast a ten year track record.
Greece's Athens Stock Exchange Index member companies have the longest-serving CEOs with a tenure of 9.7 years. Hong Kong and Thailand's CEOs, gauged by the Hang Seng and SET100 indexes respectively, follow the lead with tenures of 9.6 and 8.8 years respectively. In comparison, CEOs on IBOV, Brazil's Sao Paulo stock exchange index have the shortest average of 3.4 years.
READ MORE: For Tenures of CEOs, CFOs and Board Members, Click HERE
This is not to imply that the CEOs' industry experience is confined to their current role. In order to be as accurate with data compilation as possible, our research only counted the most recent CEO appointment at current company as the start date, excluding prior leadership experience heading multinational subsidiaries, groups, divisions or as the CEOs for competitors.
Something to clearly consider are the basic differences between regions, countries and industries. An example are the cultural norms about when someone can become a CEO, according to Timothy Quigley, a professor of strategic management at the University of Georgia. "In the U.S., it was once the norm that you had to be mid-to-late 50s before coming CEO," he says. Yet today the norm has shifted -- becoming a CEO in ones late 30s or early 40s are possible.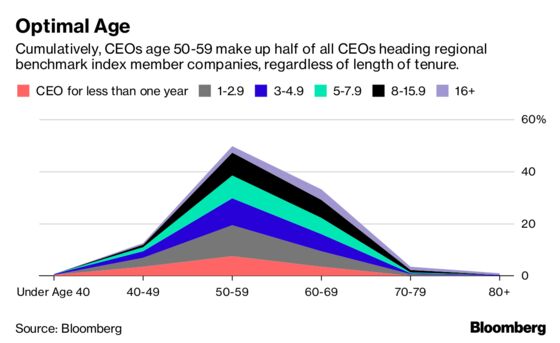 This rings truer than ever in the U.S. -- Marissa Mayer was 37 when she became Yahoo! Inc.'s CEO, a position she held for just shy of five years, and Mark Zuckerburg was all but 28 when he took Facebook Inc public. Globally, half of the CEOs are in the 50-59 age group.
"Similarly, it used to be that lots of companies had mandatory retirement ages," Quigley says. Merck & Co. recently rolled back a policy calling for its chief executive officer to retire at the age of 65, allowing the drugmaker's current boss, Ken Frazier, to remain at the helm for longer.
In places where mandatory retirement and tougher promotional hierarchy squeeze both ends of the career spectrum -- such as the Japanese market -- as assessed by the Nikkei index members, it is probably no wonder that the average leader is 62.9 years old, one of the oldest, while having only served as a CEO for an average 4.4 years.
Some of the longest-serving CEOs for major equity index member companies may not represent their industry as a whole. Warren Buffett, one of the oldest CEOs at age 88, has been leading Berkshire Hathaway Inc, an SPX member, for 48.7 years. Rahul Bajaj, of Bajaj Auto Ltd, a maker of motorized scooters and one of the 31 current members of India's Sensex index, has been in the lead position for 50.8 years. Bernard Arnault, France's richest man, has been at the helm of luxury goods maker LVMH Moet Hennessy for nearly 30 years.
In this fast-paced world dominated by career mobility and misaligned incentives, as "companies are dealing with uncertainty in the markets, disruptions in technology, or fallout from impending tariffs. Regardless of the reason, boards need strong talent with specific skill-sets," said Andrew Challenger, Vice President of Challenger, Gray & Christmas, Inc., a global outplacement consultancy.
Should something like the 2008 crisis happen again, even on a regional level, experience matters. Quigley agrees, "I think there's an argument to be made for keeping the steady hand at the helm in rough seas."
Needless to say, Warren Buffetts are a rarity.
METHODOLOGY: CEO tenure are as of 8/31/2018. Only included tenure as chief executive officer or equivalent position for the currently associated company, since most recent appointment. Data is then supplemented by extrapolating years at current helm since last known documented mention of the CEO post. More than 6,800 companies benchmarked to 80 primary regional equity indexes were researched. Final output included markets with tenure data for more than 75% of the index members or at least 20 member stocks. Tenure data for dual listed firms were included in both markets' entries.