Major WTO Showdown Looks Harder to Avoid as U.S., China, EU Spar
(Bloomberg) -- The U.S., China and the European Union moved a few steps closer to a major clash at the World Trade Organization that risks testing the global trade referee's neutrality and President Donald Trump's patience for an institution he already hates.
In a volley of filings, the EU, China and the U.S. this week escalated disputes over new U.S. metals tariffs, the European response to those levies, and Chinese intellectual property practices.
The moves show how major powers like the EU and China are standing up to Trump's "America First" trade maneuvers, and challenging his willingness to go outside global trade rules. They set the stage for a major showdown over sensitive and largely untested areas of global trade rules, such as when a country is allowed to invoke national security in imposing tariffs.
"These are the most contentious disputes the WTO has heard," said Chad Bown, an expert on WTO disputes at the Peterson Institute for International Economics in Washington. "2019 is going to be an important year for the WTO."
Trump has threatened to withdraw from the WTO and has repeatedly characterized the Geneva-based organization as being biased against U.S. interests. The U.S., he said in an August interview with Bloomberg, has been treated "very badly."
The U.S. president is also slowly strangling the WTO's dispute settlement system by blocking the appointment of new judges to its appellate body. That's left the de facto Supreme Court of global trade, which mediates disputes affecting some of the world's largest companies, with just three of its usual seven judges in place.
Given Trump's animosity, the hobbled dispute settlement mechanism faces a lose-lose situation when it rules on whether and how a country can defend its trade behaviors in order to preserve its national security.
Under WTO rules, countries can act to restrict trade in times of war. But the exception has rarely been invoked for fear that doing so would open a Pandora's box of protectionist measures and tit-for-tat tariffs.
By invoking national security and declaring that a country's economic health is a building block for national defense, the Trump administration has been stretching the rules, most trade experts agree. But the U.S. has argued that for the WTO to even rule on if or when a country can invoke national security would violate its members' sovereignty.
If the WTO goes along with the U.S. national security argument, though, it could encourage Trump to implement new tariffs on cars, and spur a proliferation of other new trade restrictions authorized under the guise of national security.
The U.S. Commerce Department is conducting an investigation to determine if foreign imports of autos and auto parts are having a detrimental impact on national security. The inquiry is identical to the process the U.S. pursued earlier this year, after which it implemented 25 percent tariffs on steel and 10 percent tariffs on aluminum.
WTO Director-General Roberto Azevedo, fearful of what such a national security ruling could lead to, has urged members to avoid taking that fight to the trade body.
'Highest Political Level'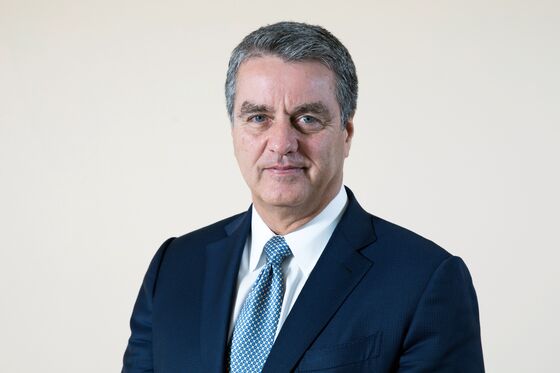 "National security is something that is not technical," Azevedo said in a 2017 interview. "It is not something that will be solved by a dispute in the WTO. That requires conversation at the highest political level."
Yet by pressing on with their disputes at the WTO, the EU, China and other countries challenging the U.S. are ignoring that advice.
It's possible that the disputes never reach the appellate stage if the Trump administration maintains its block on new appellate body nominees for another year or more. The three judges remaining are the bare minimum required to adjudicate appellate cases. The terms of two of the three expire in December 2019, which would leave the body paralyzed.
Meanwhile, there are already other cases in the system that could draw U.S. objections.
An initial ruling is expected in December in a fight over Moscow's moves to restrict the movement of Ukrainian freight, in what's seen as the first real test of the national security issue. A decision is also likely as soon as early 2019 on a Chinese challenge to the EU's refusal to grant Beijing market economy status at the WTO -- something the U.S. has also refused to do.
Some experts see reasons to be encouraged, though.
It's a good thing the U.S. and others are even pressing their cases at the WTO, said Bown of the Peterson Institute. That's particularly true, he said, as many of the U.S.'s actions so far -- including its metals tariffs and the ones Washington's imposed on $250 billion in annual trade with China -- are arguably illegal, as has been the retaliation by Brussels and Beijing.
"The fact that it is actually happening is at some level a positive sign," Bown said.