Maduro's Inner Circle Travels the Globe to Buy His Regime More Time
(Bloomberg) -- For weeks, Venezuela's central bank president Calixto Ortega had seemingly gone missing. His staff hadn't seen him, they had no idea where he was and had even begun to wonder if perhaps he had abandoned his post or fled the country.
In reality, Ortega was on a long trip to Turkey, China and Russia to meet with officials and discuss financing and banking, but hadn't bothered to tell most aides, according to four people with direct knowledge of the situation. He still hasn't come back to work and papers are piling up on his desk, one of the people said.
The incident underscores the disarray inside the Venezuelan government at a time when Nicolas Maduro's strong-arm regime shuttles around the globe to find ways to skirt U.S. financial and oil sanctions. Members of his inner circle are hitting up the country's remaining allies, most considered authoritarian and at odds with the U.S. While the opposition onslaught, led by Juan Guaido, has slowed in recent weeks, Maduro's government badly needs more funding and ways to access money abroad if he is able to remain in office.
For now, Maduro hasn't announced plans to go on an international tour himself and, given the delicate situation at home, where the opposition is openly calling on the military to turn on him, he may stay put indefinitely. That contrasts with Guaido, president of the National Assembly, who has hopscotched around South America in a five-country tour including Colombia and Argentina. He's vowed to return to Venezuela on Monday, where he may face imprisonment.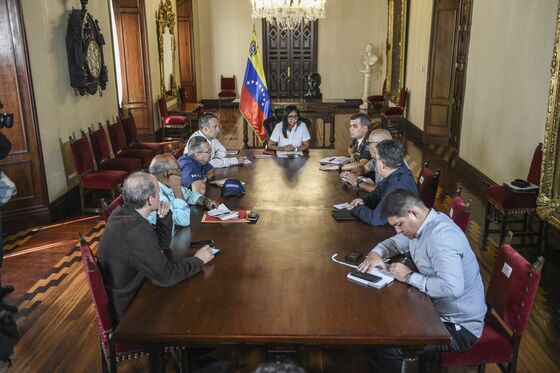 Meanwhile, Maduro's aides hit the road. His vice president, Delcy Rodriguez, another member of the inner circle along with her brother Jorge, the information minister, has been in Russia since Friday. While Rodriguez met with Foreign Minister Sergei Lavrov and was assured support and cooperation, a Kremlin spokesman made clear there are no high-level conversations around new financing. Facing the risk of asset seizures globally, Rodriguez said a state oil-company office in Lisbon will be moved to Moscow. Rodriguez posted a video with Russia's senate head on Sunday.
Another confidant who has been racking up miles recently is Manuel Quevedo, a former general who is Maduro's oil czar and happens to be head of OPEC at the moment. He appeared in India shortly after oil sanctions were announced in January. Last week he was in Riyadh and now he's reported to be heading to Russia as well.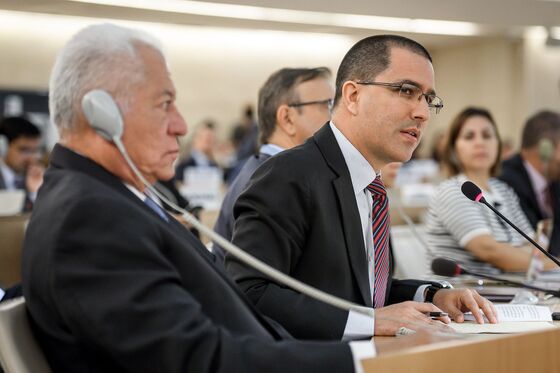 Foreign Minister Jorge Arreaza, who was former president Hugo Chavez's son-in-law, was in Geneva last week trying to defend the government's legitimacy at the United Nations. When he began to speak at a human rights commission event, dozens of diplomats walked out of the room in protest.
So what will the inner circle manage to bring home from the trips around the world to meet with allies? Beyond some political support, that's not so clear.
China has been loath to lay out fresh money to Venezuela for years after doling out more than $60 billion that is still being paid back in oil shipments. Russia is waiting for Venezuela to pay back loans for military equipment. PDVSA is sending crude shipments to Rosneft for previous financing. Turkey has been an entry point for some of Venezuela's gold in recent years but has never been a major source of financing for the South American country.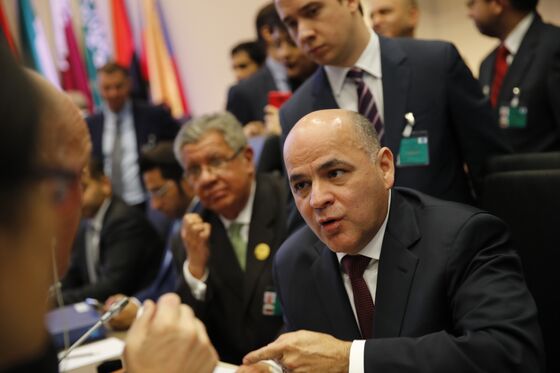 If they had secured significant funding, Maduro surely would have celebrated it on state television as he and his predecessor had done so many times in the past -- to the point where they've announced the same $5 billion lending agreement from China multiple times. At this stage even a restructuring of the terms would help by extending maturities or agreeing to more grace periods.
One obsession at the moment, according to two people familiar with the planning, is to design a global banking route that allows Venezuela to access funds abroad, pay suppliers and receive payments for energy transactions. Venezuela owns a development bank in Uruguay, which has seen more activity recently, according to the local central bank. It also owns a 50 percent stake in a Russian bank called Evrofinance Mosnarbank.
Accompanying the central bank head Ortega are Finance Minister Simon Zerpa and Production Minister Tareck El Aissami. (It was Aissami's second trip to Turkey this year; in mid-January he was photographed meeting with President Recep Tayyip Erdogan.) The three are among the few people who actually know how much money is left and where it's being shuttled around the globe. Zerpa and Ortega were seen in the video posted about the meeting with Russia's Senate head.
While it's not clear what the trio accomplished, at least they enjoyed a good meal at a well-known seafood restaurant, based on pictures shared by a famous Turkish chef on Instagram that were later deleted. That may have been a wise move. A photo of Maduro eating steaks and smoking cigars at Salt Bae's Istanbul-based restaurant in September went viral and sparked outrage among his foes.