Macy's Forecast Could Get Worse—It Came Out Pre-Tariff List
(Bloomberg) -- The Trump administration's latest rounds of Chinese tariffs may finally hit Macy's Inc. where it hurts.
The department-store chain, which had already weathered the first few rounds of levies, says it won't be so lucky with the latest waves. The U.S. on Friday raised tariffs on some $200 billion in Chinese goods to 25% from 10% previously, then on Monday released a new list of goods slated for their own 25% hit.
"It is hard to do the math to find a path that gets you to a place where you don't have a customer impact," Chief Executive Officer Jeff Gennette said on an earnings call Wednesday, describing the impact of the U.S.-China trade negotiations as a "stay tuned" situation.
The shares alternated between gains and losses on Wednesday, with Gennette's tariff comments on an investor call sparking a reversal of advance earlier in the day.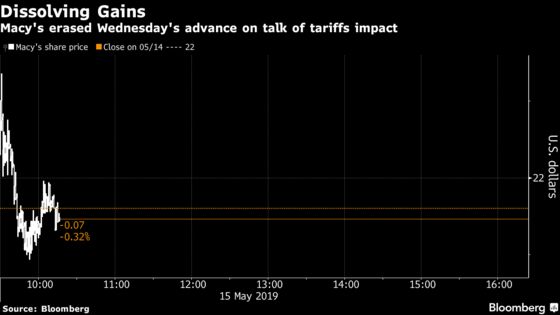 The first rounds of tariffs put into effect last year focused more on industrial and agricultural items as the Trump administration tried to avoid the backlash that taxing consumer goods might bring. But the list of products that saw its rate bumped up to 25% on Friday also included some consumer items like handbags and furniture -- Macy's staples. The most recent list on about $300 billion of imports is full of the consumer items that dominate Macy's showroom floors: clothing, shoes and household goods.
Gennette said the first rounds had "no meaningful impact," but the third round is hitting furniture and the fourth round could hurt its private-label and national brands. The company said it full-year guidance -- which it held steady on Wednesday -- did not take into account the latest round of tariffs, which still needs to go through a public comment period.
In a separate interview, he said the chain is working to move some production for private brands out of China, to other parts of Asia and beyond. He didn't specify which countries, although he did say completely bringing production back to the U.S. isn't an option "in the near term."
"New countries are emerging with capability," Gennette said in an interview. "Costs in the cumulative are advantageous for us to have done that."
In the next few weeks, Macy's will continue discussions with domestic partners and review its inventory to decide what brands could withstand a price hike. The company can refer to past cotton cost increases as a guide for how consumer demand behaves when apparel costs go up, Gennette said.
But the current tariff situation is unlike one they faced before, he said.
"This is a different scale," Gennette said. "This is across categories where we have not seen price increases like what we could potentially see. But we do have a formula in the apparel area that we will apply across the store."
Oliver Chen, a retail analyst with Cowen, said that the tariffs could end up trimming Macy's gross margin by 20 to 90 basis points.
In a note to clients, he said that companies that depend more heavily on private brands will be "disproportionately impacted by tariffs as they will bear the majority of the rising costs." Larger retailers with bigger scale -- such as Walmart Inc. -- will have more room to negotiate more favorable terms with manufacturers, he said. Macy's private-brand exposure in 2018 was about 20%, Chen said.