Macron Boost Fades as Foreign Investors Lose Love for France
(Bloomberg) -- Go inside the global economy with Stephanie Flanders in her new podcast, Stephanomics. Subscribe via Pocket Cast or iTunes.
France is losing its shine as a place to invest after a sharp improvement in its image with the election of Emmanuel Macron on a pro-business platform.
An annual survey of foreign investors by EY shows only 30% expect the country to become more attractive in the next three years, a sharp decline from 53% at the start of 2018.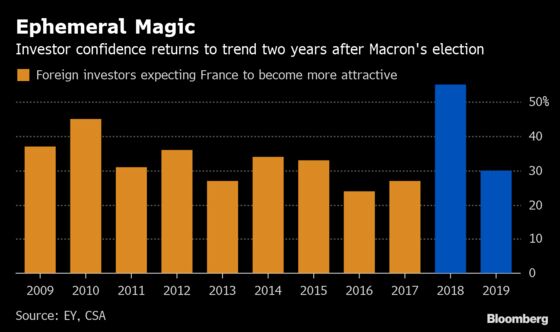 "In the eyes of business leaders we questioned, France is still suffering from a competitiveness deficit compared to its main rivals," EY said.
The declining enthusiasm among foreign investors comes at a difficult juncture for Macron after months of Yellow Vest turmoil against his reforms. In response to the protests, Macron has pledged more tax cuts for consumers, partly financed by closing tax loopholes for businesses.
Still, the government says it will not unpick the reforms of labor laws and corporate tax in the first two years of Macron's presidency. Speaking in an interview, junior economy minister Agnes Pannier-Runacher said the government will take a more "micro" approach that will focus on simplifying procedures and cutting red tape.
"We need to look at the grains of sand that are preventing the engine from going at the speed it should," Pannier-Runacher said.