Macri Sees Argentina Steeled by Crisis, on Path to 2019 Rebound
(Bloomberg) -- Argentine President Mauricio Macri says that South America's second-biggest economy is now on the right path to forging a strong rebound next year after surmounting a full-blown financial crisis in 2018.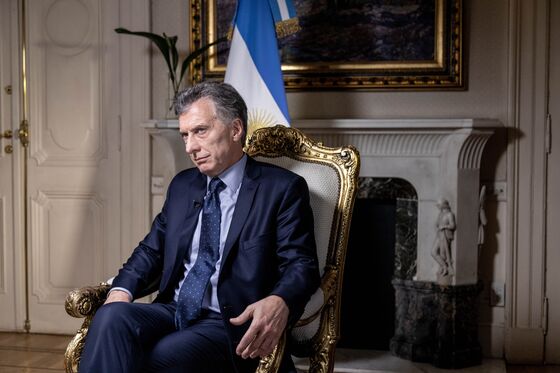 "Argentina is in a much stronger situation than it was 12 months ago," Macri told Bloomberg TV in an interview Monday in Buenos Aires. "We have cut significantly our deficit, next year we are going to balance the primary budget, and we already have financed all our needs through the IMF program so that makes a big, big difference."
Elected in 2015, Macri has arguably had his hardest year in office. A currency crisis dragged Argentina into recession and forced Macri to seek aid from the International Monetary Fund, which gave the South American nation a record $56 billion credit line. A severe drought, global market selloffs, zigzagging policies and communication missteps triggered the peso's plunge, now down 49 percent this year, the worst in emerging markets.
The economic downturn has clouded Macri's path to re-election next year. His government's approval rating is hovering at its lowest level since he took office, and consumer confidence in November fell to a 16-year low. After his government began 2018 with a 15 percent inflation target, prices are expected to rise 47 percent in December from a year ago.
Macri spoke after hosting the Group of 20 summit that concluded Saturday with all leaders agreeing on the final communique, unlike the G-7 gathering in June when President Donald Trump withdrew his support. No violent protests occurred in Buenos Aires, in contrast with the 2017 meetings of the G-20 in Hamburg, Germany. And the U.S. and China declared a temporary truce to their trade war, which Macri blamed in part for Argentina's high bond yields.
More than a mere host, the Argentine leader also held a marathon of bilateral meetings with leaders including Vladimir Putin, Emmanuel Macron, Trump, Xi Jinping, and Narendra Modi.
Looking ahead to the October elections, the president pledged simplicity:
"My strategy is bringing back the economy to growth," Macri said. "This is the only way. This G-20 helped a lot because every leader that visited us for the G-20 and for the 17 bilateral meetings we had, they all agreed we are doing the right reforms."
The IMF credit line and a shift in inflation fighting tactics has helped to stabilize the economy and fuel strong rallies in Argentine assets. Since Oct. 1, the peso has gained 12 percent against the dollar, one of the best gains in the developing world.
Inflation expectations for the next 12 months fell in October and officials say they will likely continue to decline. After monthly inflation spiked to 6.5 percent in September, the government now estimates that the comparable figure for December will be 2 percent to 3 percent. On Monday, the peso closed at 36.5 per dollar, a level that Macri described as "very competitive."
Despite a cabinet overhaul earlier this year amid the currency crisis, Macri appears to be going into the election with his current staff.
"I'm very happy with the team that we have," Macri concluded. "It's a healthy, competent team and they've done a great job in a very difficult context."