Lower German Joblessness Signals Growth Slowdown Only Temporary
(Bloomberg) -- German unemployment fell in October, extending its five-year decline through a period of slower economic growth.
The number of people out of work fell by a seasonally adjusted 11,000 -- slightly less than a forecast drop of 12,000 -- to 2.292 million. The jobless rate stayed at 5.1 percent, the lowest since the country's reunification.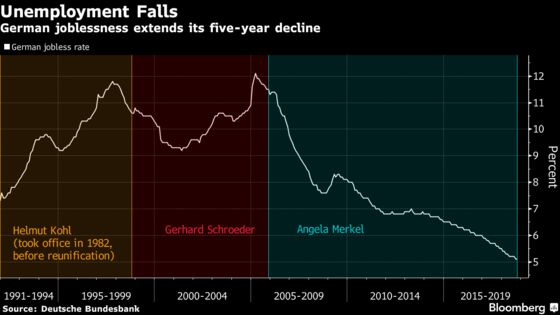 "Demand for labor at companies is settling at a very high level," said labor agency head Detlef Scheele.
Growth probably came to a temporary halt in the third quarter, the Bundesbank said last week, adding that the upswing remains fundamentally intact. European Central Bank President Mario Draghi cited a strong labor market and rising wages across the euro area as a reason why policy makers remain confident in the region's expansion.
Tuesday's report showed joblessness fell by about 6,000 each in west Germany and the eastern part of the country.
Inflation in Europe's largest economy -- due later on Tuesday -- is forecast to have accelerated to 2.4 percent in October. Unemployment data for the euro area will be published on Wednesday.