Low Food Prices Are a Budget Problem for India's Modi
(Bloomberg) -- A low inflation spell in an election year should be good news for any government, right? Wrong.
For Prime Minister Narendra Modi, the subdued inflation numbers, due largely to low food prices, may present a budget problem. His government may have to shell out more to compensate farmers for low market prices of some crops under a plan announced this year with a view to double farm incomes by 2022.
"India's falling food prices could become a bane for Modi," said Soumya Kanti Ghosh, chief economic adviser at the nation's largest lender State Bank of India. "A bumper harvest that's led to crashing of food prices will increase the burden on the government to compensate farmers."
In July, the government raised support prices of crops such as cotton, soybeans and paddy rice to ensure farmers get at least 50 percent more than the estimated production costs. That means in the event of a crash in market prices, the government would have to chip in and ensure sale of the produce by farmers at guaranteed prices.
The increase would cost the government an additional 150 billion rupees ($1.8 billion), Home Minister Rajnath Singh had said in July without elaborating. India aims to keep its budget gap at 3.3 percent of gross domestic product in the fiscal year to March 2019. But as the country gears up for a national election early next year, there are concerns that the government might not be able to stick to that target.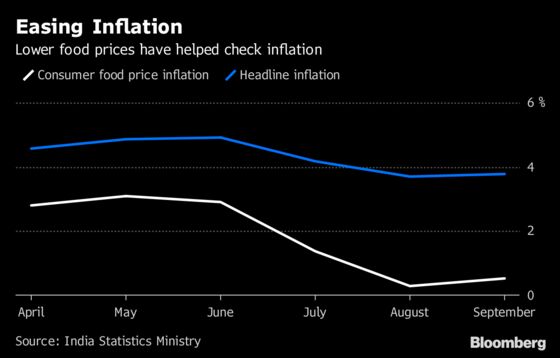 Consumer food price inflation eased to 0.5 percent in September from 2.8 percent at the beginning of this financial year in April. That's helped bring headline inflation within the central bank's medium target of 4 percent.
"Continued deceleration in food prices particularly in rural areas remains a serious cause for concern and could open up Pandora's box in an election year," Ghosh wrote in a note.