Here's Why Polish Policy Makers Have More Time to Juice the Economy With Cheap Rates
(Bloomberg) -- Poland's central bank kept its benchmark interest rate on hold as signs of a looming slowdown at home and abroad give it more time to juice the economy with record-low borrowing costs.
With both its regional peers and global central banks, including the U.S. Federal Reserve, already tackling resurgent price growth with higher borrowing costs, the European Union's largest eastern economy hasn't changed monetary policy since 2015.
But now inflation, which has breached the central bank's target only once in the past six years, may exceed it in 2019. That's challenging Governor Adam Glapinski's pledge to keep borrowing costs unchanged for at least another year. However, that wasn't enough to nudge the Monetary Policy Council into action on Wednesday, when it kept the benchmark at 1.5 percent as expected by economists.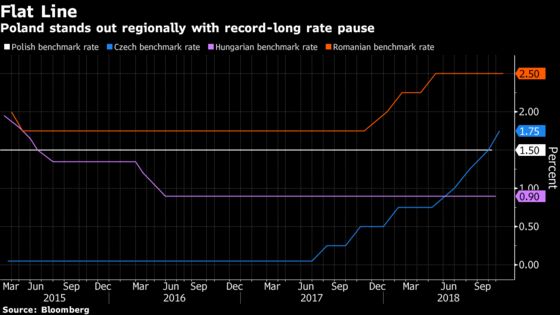 The wait-and-see stance is backed by a second quarter of disappointing data signaling an economic expansion that exceeded 5 percent in the first half of the year may decelerate. Growth in Europe is also wobbling. That will provide a counterpoint to new projections at the bank that economists think will show inflation accelerating to more than 2.7 percent next year.
"The Council will be inclined to wait the inflation rebound out, taking into account an economic slowdown in the euro zone," said ING Slaski SA economists led by Rafal Benecki.
Glapinski will hold a news conference at 4 p.m. in Warsaw to explain their decision. Arguments a majority on the MPC may use to keep rates at the level they've stayed for three-and-a-half years include:
The main inflation driver will be energy and food prices, which policy makers see as beyond their influence
While the MPC's "primary objective" sets the stabilization of inflation at 2.5 percent, plus or minus one percentage point, in the medium term, a majority may tolerate inflation of 3.5 percent if it doesn't exceed that for a long time
While a pickup in euro-area prices has put the European Central Bank on track to raise rates late next year, Poland remains in no rush to follow
Core inflation, which excludes the most volatile items, dropped to an annual 0.8 percent in September
Forward-rate agreements, an indicator of where investors expect interest rates to be in the future, are pricing in 32 basis points in hikes in the next 12 months.
"We think it's more likely that we will hear once again that interest rates will remain unchanged throughout next year," Piotr Kalisz and Cezary Chrapek, economists at Citigroup Inc.'s Polish unit, wrote in a note before the decision was announced.