Look North for a Central Bank Defying the Fed's Low-Rate Future
(Bloomberg) -- Just one week after the U.S. Federal Reserve set the tone for the world by cementing in a low interest rate for the foreseeable future, Norway's central bank might be about to emphatically differ.
While the Fed, the European Central Bank, and Sweden's Riksbank are all signaling an easy-policy stance with no hint of hiking for years, Norges Bank is already penciling in eventual tightening, and could bring forward its view for when that may happen.
The outlook that officials in Oslo are likely to present at their latest decision on Thursday is one of accelerating inflation and an economy in recovery mode after a relatively successful containment of the coronavirus. The central bank has previously signaled a rate increase for the end of 2022, though some investors and economists are betting on one coming sooner.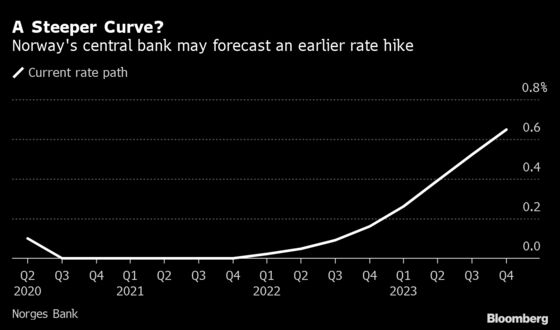 "We expect the bank to deliver a first rate hike around mid-2022, but that financial stability considerations will lead to a faster hiking trajectory bringing the key rate to 1% by the end of 2023," Erica Blomgren, an economist at SEB, said in a report.
The benchmark deposit rate has been at zero since May, and none of the economists surveyed by Bloomberg expect any change to that on Thursday. The main focus of their attention will instead turn to the bank's own forecast for borrowing costs.
What Bloomberg's Economists Say...
"We expect the balance of risks in combination with the higher than expected inflation outturn, will encourage policy makers to bring the first rate increase slightly forward while keeping the number of rate hikes intact during the forecast period. Governor Olsen has also previously signaled a reluctance to adopt near zero rates because of a perceived build-up of financial risk." --Johanna Jeansson. Read her NORWAY PREVIEW
Read more: Norges Bank May Tweak Timing of Rate Lift Off
An upward revision to the rate path would consolidate Norges's status as the first candidate in the Group of 10 currency sphere likely to raise borrowing costs. The central bank's ability to do so has been assisted by Norway's $1 trillion sovereign wealth fund, which has bankrolled fiscal aid and taken pressure off monetary policy to add stimulus.
By contrast, on Tuesday in neighboring Sweden, the Riksbank reiterated its view that its rate will stay close to zero for years, and insisted that "the way back is long and fraught with uncertainty." That followed the Fed's signal last week that it will probably stay near zero through 2023.
Bjorn Roger Wilhelmsen, partner and chief economist at Nordkinn, an absolute return macro hedge fund based in Stockholm, reckons that the first Norwegian rate hike "will probably come at the end of 2021."
Read more: Macro Hedge Fund Reveals Its Bet on the First G10 Rate Hike