Long Into the Weekend? With China Open Looming, Investors Say No
(Bloomberg) -- Equity losses spiraled Friday as investors contemplated what a worsening global health scare would mean for economic growth and eyed the reopening of China's stock market with trepidation.
The S&P 500 fell more than 1% for the second time in a week, after 70 days had passed without a move that big. On pace for the worst week since August, the benchmark pared its year-to-date gain to just 0.3%. A rush to safety sent benchmark 10-year Treasury yields to 1.52%, the lowest since October.
While the World Health Organization didn't recommend any travel or trade restrictions when it declared a global health emergency, more airlines are canceling flights to China and nations such as the U.S. have advised citizens not to travel to the region. Mainland Chinese markets are set to open Monday after days of being shuttered, and traders are expecting declines.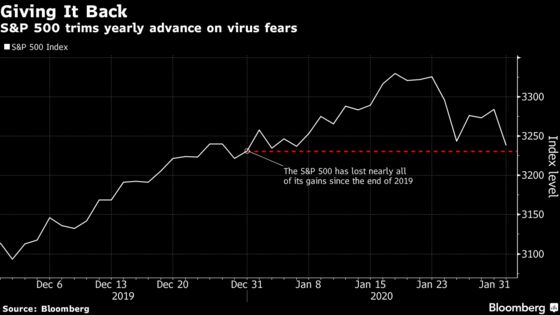 Here's what investors are saying:
Matt Maley, an equity strategist at Miller Tabak & Co.:
"When the China markets opens on Monday, people are afraid that there's going to be an onslaught of selling -- that's certainly part of it. You also have a situation where there's no question that the thing continues to spread. They haven't been able to slow down the spreading of this thing in a significant way. And we're going into the weekend -- people are like 'This thing could get a lot worse over the weekend and I need to take some profits before then.' That's the key thing right now and you can't blame them."
Nela Richardson, an investment strategist at Edward Jones:
"That this outbreak is coincident with what we thought were the early stages of a rebound in global growth is a bit disheartening, I think, for the market. You saw that pessimism play out in terms of the response to the European GDP that did contract in France and Italy. The market is not going to stand still on the coronavirus. I think what we saw on Thursday with the WHO announcement was a little bit of calm. The fact that there was this global announcement meant that global coordination would be more likely and that the negative impact on trade and travel would be limited as well as limiting the impact on supply chains and businesses shuttering. The market took that as good news, acknowledging the problem," she said. "But we can't assume that one announcement would change the entire trajectory quickly. We do expect that there's going to be more volatility in the markets."
Willie Delwiche, an investment strategist at Baird:
"The incremental nature of the news right now is that it's hard for the market to get a sense of the complete picture. Part of that is the Chinese market not being open but it's also the extent to how far the virus is spreading, the impact it will have on the global economy at a time when the markets had been expecting to see a rebound in economic activity. And then also it's compounded by what you're seeing domestically in terms of bad data out of China feeding into concerns that there's some deeper vulnerabilities than just virus-related news," he said. "Today, equities are saying maybe the bonds have it right right now. The 10-year is 40 basis points lower than where it was at the beginning of the year. That was moving lower before headlines emerged about the stuff in China. The bond market is saying something that I think the equity market, today at least, is paying a bit more attention to."
Kristina Hooper, chief global market strategist at Invesco:
"Nothing dramatic has changed in the last day but there is a growing recognition that the coronavirus is a significant issue for markets and the economy, given more flight shutdowns and other travel restrictions, and statistics on the growing number of infected. We advise investors to take a long-term perspective. While the novel coronavirus is a significant issue, it is likely to be very short-lived so this could present buying opportunities. I am not surprised by recent moves, as China is such an important part of the global economy."
Paul Nolte, a portfolio manager at Kingsview Asset Management in Chicago:
"The economic data is a little worse than expected. The Chicago PMI was terrible relative to expectations. And the earnings numbers that have been coming in, guidance is bad. You've got companies coming in like Starbucks, McDonalds, 'Hey, by the way, we're closing a bunch of these stores.' You're getting some of that. Not in the numbers that got reported, but forward guidance is being curtailed severely. That's having an impact on the markets at this point. Right now we're looking at the volatility as normal. We've highlighted the last month that markets were in need of a break. Call coronavirus the reason for it. But the markets had just gone straight up. People had forgotten that markets actually go down."
Michael Antonelli, market strategist at Robert W. Baird & Co.:
"We are sealing off the second largest economy in the world for an indefinite time frame. Internally China is basically shutting down for weeks. The market is pricing that impact on the global economy. Markets trade on better or worse in the very short run. The China news is getting worse on the margin. Not in number of deaths, but in length of an economic shutdown. More and more airlines are ceasing operations there. Delta out to April. That's worse news. China's main drivers of GDP are idle right now. We have no idea what an idle China would do to global growth."