London Home Price Cuts Seep Outwards as Sellers Get Real
(Bloomberg) -- Discounts on London homes are creeping out further from the center as prices remain out of reach for many people and uncertainty surrounding Brexit starts to damp demand for homes in the capital's cheaper neighborhoods.
"Vendors in outer boroughs are catching up and becoming more realistic about pricing," said Simon Rubinsohn, chief economist at the Royal Institution of Chartered Surveyors. "There's been a shift of power from seller to buyer and it looks as if it will stay that way for some time."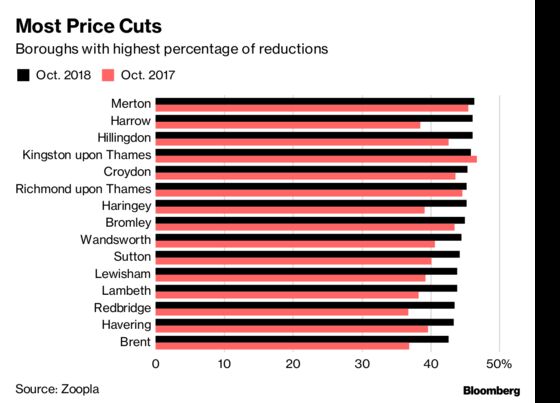 The percentage of sellers cutting asking prices in October rose from a year earlier in all but three of the capital's 33 boroughs, according to data compiled by real estate listings website Zoopla. Merton, an outer borough in the southwest, topped the list with 46.4 percent of sellers reducing prices, followed closely by Harrow and Hillingdon in the northwest.
London home prices have galloped ahead of wages, rising 66 percent in a decade, Land Registry data showed. That means it now costs buyers 14.5 times their annual gross salary to purchase a property, the highest level on record and more than double the rate for the U.K. as a whole, according to Hometrack. As a result, home sales in the capital have fallen to record lows.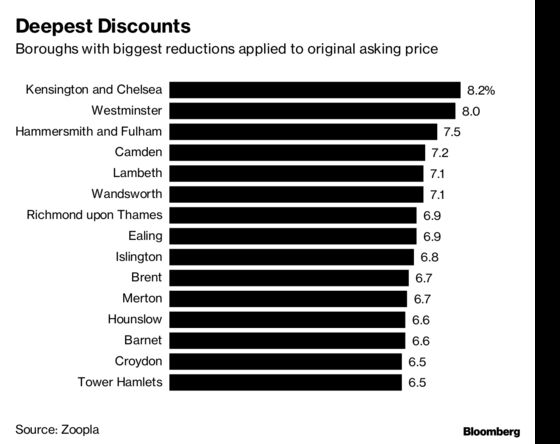 The steepest price cuts, however, are still at the top end of the market in central London, where prices first began to drop. The largest average price cut was in Kensington and Chelsea, at 8.2 percent, Zoopla data shows. Westminster was second at 8 percent, followed by Hammersmith and Fulham at 7.5 percent.
In total, 25 of the 33 London districts analyzed by Acadata suffered price declines in the year through September, four more than a month earlier. The biggest drops were in the City of Westminster, Tower Hamlets and Wandsworth, the data showed.