Lira Falls Past 6 Per Dollar as Istanbul Vote Hangs Over Market
(Bloomberg) -- The Turkish lira fell past a key psychological level against the dollar as traders braced for the prospect of prolonged political turmoil and as a global market rout piled pressure on emerging currencies.
The lira breached the key 6-per-dollar mark to touch the lowest level in seven months as U.S. President Donald Trump threatened to boost tariffs on China and Turkey's top electoral body came under fierce pressure from President Recep Tayyip Erdogan to order a new contest for the mayor's seat in Istanbul. Turkish state-run lenders sold more than $400 million of foreign currency on Monday, according to two traders with knowledge of the matter.
The possibility of a re-run of March's municipal election in Turkey's largest metropolis -- where the ruling AK Party suffered a narrow defeat -- has weighed heavily on lira assets. Investors say a repeat election could bring renewed political tension, taint the country's fraying democratic standing, and herald populist measures that would further delay key structural reforms needed to help right the economy.
The nation's highest election authority is due to rule as early as Monday on the governing party's request for a fresh vote. The currency briefly led emerging-market losses before trimming its decline.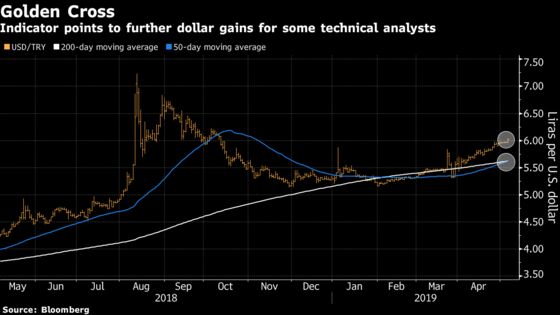 The lira dropped as much as 1.3 percent to 6.0405 per dollar as investors awaited the ruling. The dollar-lira pair formed a so-called golden cross, when a security's 50-day moving average rises above its 200-day reading. The dollar gained all three times the pattern was formed over the past five years.