Lira Retreats as Investors Look for a Plan to Help Turkey Banks
(Bloomberg) -- Turkey's lira reversed from gains to losses against the dollar and bank shares dropped as Treasury and Finance Minister Berat Albayrak left investors waiting for more details on plans to shore up lenders in his road map to re-balance the economy.
The lira, which surged almost 2 percent after Albayrak announced lower growth and spending targets, erased gains as he skipped details on the key issue, which investors had expected him to clarify. Speculation had been building that authorities would announce a plan to help banks tackle a buildup of bad debt on their balance sheets amid a currency rout that's knocked 40 percent off the lira's value this year.
"Front and center has to be evidence the government gets the challenges in the banks," Timothy Ash, a strategist at BlueBay Asset Management in London, said before the minister's speech. "The urgent need from the authorities is to be open about the problem, and through innovative solutions like a bad bank, help banks clean up their balance sheets."
While the currency stabilized after the central bank hiked rates by 625 basis points last week, many investors were looking for signs of further policy action. The lira was initially lifted on Thursday by new growth forecasts, which suggested authorities aren't planning any major stimulus programs, and are committed to tighter fiscal policy and financial stability. It was trading almost 1 percent lower at 6.3091 per dollar at 3:09 p.m. in Istanbul.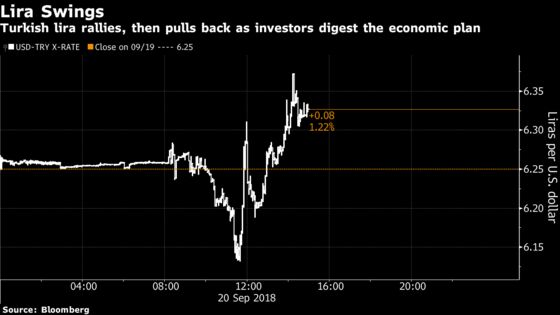 The revised forecasts showed growth slowing to 3.8 percent in 2018 and 2.3 percent in 2019. The latter figure is still significantly more optimistic than the estimate by the Organization for Economic Cooperation and Development, or OECD, which sees Turkey's expansion at just 0.5 percent next year. The Turkish economy expanded 5.2 percent in the second quarter of this year and 7.3 percent in the first quarter.
Another key indicator of how the government will handle the expected slowdown in a municipal election year was fiscal targets with new projections suggesting that the government would try and undo this year's deterioration in the public budget.
Citing the less ambitious targets in the central government's budget gap and an inflation forecast of 9.8 percent at the end of 2020, Turkey Macro View Consulting Managing Director Inanc Sozer said "macroeconomic targets were realistic."
"The fact that they don't see inflation back in a comfortable single-digit zone for three years shows that they are aware of the problems they are facing," he said. "Investors were worried that another round of fiscal stimulus would chip away at the most recent monetary tightening. So, implementation of fiscal policies announced today will be key."
For more on targets: Turkish GDP Growth Seen at 2.3% in 2019 in New Govt Program
Plans to restructure the Development Bank of Turkey and the Real Estate Bank of Turkey also raised concern that the government could stick to some expansionary economic policies.
Market response will now depend on implementation of Albayrak's plan, said Anastasia Levashova, a fund manager at Blackfriars Asset Management in London. "Now it is all about credit contraction, debt repayments and restructuring and deleveraging -- which will undoubtedly will be painful and lengthy."