Lira's New Low Underscores Central Bank's Credibility Test
(Bloomberg) -- The lira's latest swoon is offering the clearest evidence yet that the Turkish central bank last week missed an opportunity to restore its credibility in the eyes of traders.
Though the currency's unprecedented slide through 8 per dollar this week came amid a flurry of negatives for risk assets, the biggest concern for investors remains the central bank's reluctance to deliver a decisive interest-rate increase that would confirm its commitment to stemming the lira's depreciation.
"The central bank has only itself to blame for today's decline in the lira," said Nigel Rendell, a senior analyst at Medley Global Advisors in London. "Central banks reap what they sow. The central bank sowed confusion and policy uncertainty last week and they're now reaping yet another major currency selloff."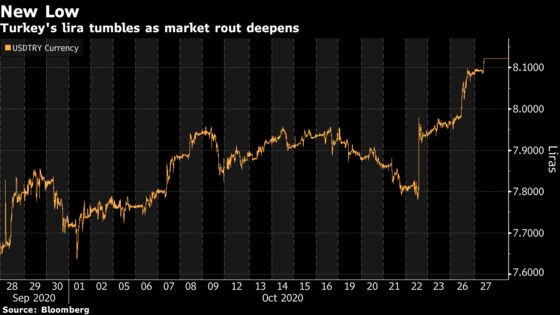 The lira fell for a fourth day against the dollar on Tuesday, trading down 0.5% as of 10:36 a.m. in Istanbul. That was the biggest decline among emerging-market currencies and extended a nine-week streak of depreciation, its longest rout since 1999.
Turkey's central bank rattled investors last week by unexpectedly keeping rates on hold, a move that halted a brief recovery in the currency ahead of the decision. The regulator has already spent foreign-exchange reserves faster than any other major developing economy to try to support the lira. Foreign investors sold $13.3 billion of Turkish equities and bonds this year, the most since at least 2005.
"It's like Groundhog Day Turkish style," said Tim Ash, a strategist at BlueBay Asset Management in London. "A repeat of 2018. The central bank seems to never learn. It failed to listen to the market by not hiking rates last week and is now suffering the consequences."
Foreign-investor interest in Turkish assets is being additionally sapped by a string of geopolitical risks. President Recep Tayyip Erdogan's government faces possible U.S. sanctions over the purchase of a missile system from Russia and is engaged in territorial disputes in the eastern Mediterranean and the Caucasus.
Turkey's banking regulator, BDDK, took a further step to slow lending and support the lira. Lenders will be able include foreign-currency loans extended to other local lenders for one year when calculating their asset ratio, making it easier for them to meet the requirement, it said.
Government-owned lenders sold at least $800 million on Monday, according to two people with knowledge of the matter who asked not to be identified because the details aren't public. State banks don't comment on interventions in the foreign-exchange market.
Diplomatic spats aren't helping. On Sunday, President Erdogan challenged the U.S. to sanction the country over its purchase of Russian S-400 missile defense systems. He also stepped up criticism of Europe's treatment of Muslims, repeating an attack on his French counterpart Emmanuel Macron by suggesting he needed psychiatric help. He called on Turkish people to boycott French goods on Monday.
"The fallout with France, with Erdogan effectively suggesting that Macron needs therapy, is not a good way to win international friends and influence people, nor is it the kind of thing that investors in the lira like to hear," Rendell said.
The lira has lost more than 26% this year, the worst-performing currency in emerging markets after the Brazilian real.