Lira Gets No Relief From Erdogan as Hike Fails to Stem Drop
(Bloomberg) -- The relief brought by Turkey's decision to boost interest rates at Wednesday's emergency meeting didn't last long, as the lira resumed its nosedive against the dollar. And President Recep Tayyip Erdogan has since offered no respite.
The lira declined as much as 5 percent on Thursday, the most in emerging markets, amid concern the unscheduled rate increase will provide only temporary support. The currency led gains among major currencies Wednesday after the central bank raised its late liquidity window rate by 300 basis points.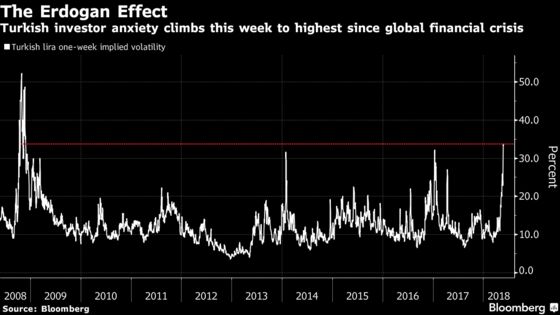 "Is lira weakness avoidable? Perhaps not so much, considering Turkey's high inflation and large external financing needs," said Emre Akcakmak, a Dubai-based portfolio adviser at East Capital International.
Erdogan, who's seeking re-election in a June 24 vote, didn't mention the lira or the rate increase in an opening campaign speech in Ankara Thursday. While he kept his remarks on economics brief, he reiterated his commitment to an open economy. His comments come a day after he pledged allegiance to global principles on monetary policy and the central bank boosted interest rates. The lira rallied 2 percent by the end of Wednesday.
Much of the currency's performance during the next few days now depends on the external environment, according to analysts. If the U.S. dollar loses steam and emerging-market currencies rebound from recent lows, the lira may follow suit. If not, it will probably remain among the weakest in developing nations, they say.
Bets on sustained volatility in the lira versus the dollar stayed strong in the options market on Thursday, with the price of protecting against lurches over the next week touching the highest since November 2008.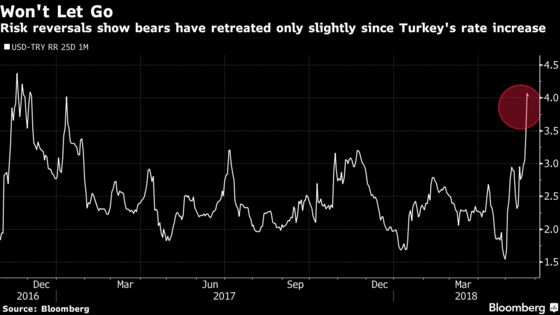 The rate increase "won't trigger a sustainable reversal in USD/TRY after confidence has been shattered over the past few weeks," said Piotr Matys, an emerging-market currency strategist at Rabobank in London. "More is required to restore confidence among investors and the central bank may have to tighten monetary policy further perhaps as soon as on June 7."
The currency declined 2.4 percent to 4.6869 per dollar as of 2:32 p.m. in New York. While bears have retreated slightly, the premium of options to sell the currency over those to buy it over the next month-- known as the 25 Delta risk reversal -- is the highest in the world, data compiled by Bloomberg show.
The yield on Turkish 10-year debt climbed to 14.28 percent. Foreigners were net sellers of $638 million worth of Turkish bonds last week, the most since 2016. The benchmark Borsa Istanbul 100 Index retreated 0.7 percent, extending losses into a second day.