Erdogan Blocking Policy U-Turn Leaves Lira With No Backstop
(Bloomberg) -- Turkey's lira has crossed a threshold of pain that prompted rate hikes in the past, but policy makers are signaling they won't budge this time. 
The currency has tumbled 39% since a September rate cut, exceeding the slumps in 2014, 2018 and 2020 when the central bank had stabilized the currency by raising rates. The absence of a similar response this time is irking traders, who say it would take at least a 500-basis-point increase in the benchmark rate to keep the lira from plumbing new depths.
The selloff that made the lira the world's worst-performing currency has deepened after President Recep Tayyip Erdogan doubled down on his unorthodox belief that higher interest rates fuel inflation and must be avoided. Respondents in a Bloomberg survey of 12 Turkish and foreign investors said they've now lost hope he will ever stop meddling with monetary policy.
"We don't believe that Erdogan can ever step back from interfering in CBRT, it is in his DNA," said Tim Ash, a senior sovereign strategist at Bluebay Asset Management. "Turkey needs a competent and strong CBRT governor, able to stand up to Erdogan."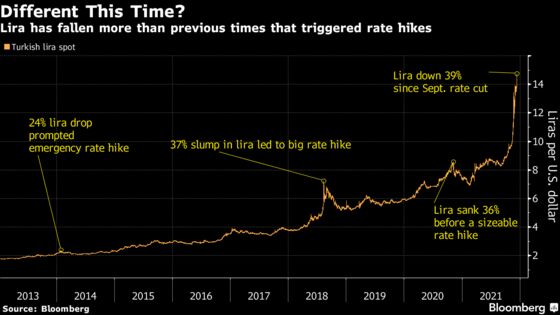 While Erdogan's government is putting on a brave face over the currency crisis -- blaming the markets for "unhealthy" price action one time and touting the benefits of a weaker lira another time -- the central bank's action suggests growing nervousness. Authorities intervened in the foreign-exchange markets three times this month, responding on each occasion the lira looked like breaching the 14-per-dollar mark. 
Still, a lasting recovery has been elusive. Saving the lira is not about selling billions of dollars but keeping the benchmark rate aligned with inflation and assuring markets the president won't interfere in central-bank affairs, the 12 respondents in the survey said.
"In order to restore credibility, the CBRT should make policy dependent on the actual consumer price index, hiking the real policy rate to positive territory (around 2%) and commit to keep it in positive territory for the foreseeable future," said Henrik Gullberg, a strategist at Coex Partners. Future rate cuts should "only materialize on the back of a deceleration in the CPI," he said.
While a 500-basis-point hike was the minimum mentioned by the respondents, some of them called for increases of as much as 1,000 basis points, which would take the one-week repo rate to 25%. With inflation exceeding 21% and showing no signs of abating, the threshold for saving the lira keeps shifting higher, they said.
Ever since a coup in 2016, which Erdogan defeated, his government has ramped up policies aimed at rapid growth fueled by the flow of cheap credit. The approach hasn't changed even when that resulted in surging inflation, which nearly tripled in five years. 
What's different now is the degree of tolerance to lira's losses exhibited by Turkey's central bank and government. In 2014, after the Taper Tantrum had brutalized emerging markets for months and sparked a 25% slump in the currency, the central bank switched to tighter rates. In 2018, it acted after a 37% slide. Last year, a 36% decrease prompted a response. 
By that reckoning, policy makers should have moved on rates by now. In fact, they are projected to cut them again when they meet on Dec. 16. The government is "determined" not to raise rates, Treasury and Finance Minister Nureddin Nebati said on Sunday in an interview with Habertuk newspaper, before the lira slumped to a fresh record well above 14 per dollar.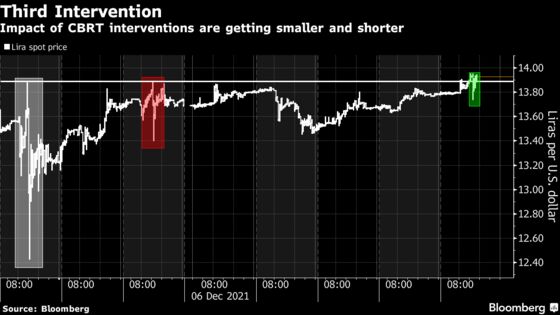 "We've seen similar moves in January 2014, September 2018, and November 2020," said Ibrahim Aksoy, Istanbul-based chief economist at HSBC Asset Management Turkey, who ranks first among forecasters of Turkish rate decisions in two years of Bloomberg surveys. "But this time it's different because rate cuts are being justified to fit the economic-transformation narrative."
Turkey may be running out of time to finesse its monetary policy. The currency's plunge is already echoing on the shopfloors, with frequent price changes for key purchases. That's likely to destroy demand, leading to slower economic growth. Worse, it could lead to a recession, said Richard Segal, a research analyst at London-based Ambrosia Capital. 
In fact, cheap credit domestically and imported inflation via a weaker lira have countered each other to make the nation's gross domestic product growth volatile over the past decade. Output grew as fast as 7.5% in 2017 and slowed to 0.9% in 2019, for instance. 
This time, things are much worse. In the absence of a tighter monetary policy, inflation accelerated in 13 of the past 14 months and stood at 21.31% in November. Bluebay's Ash says it could jump to 30% soon. That makes the possibility of recession a greater worry for investors than the potential for a dollar shortage.
"I'm less worried about the balance of payments given the forthcoming demand squeeze," Segal said. "Volatility is likely to continue for three to six months, and therefore we would be cautious about this market over such a time frame."