Life After U.S. Begins for Powers Still in Iran Nuclear Deal
(Bloomberg) -- Efforts by world powers to salvage the landmark nuclear deal with Iran pick up on Friday in Vienna, where officials will meet for the first time without U.S. diplomats present.
Russia, China, the U.K., France and Germany will discuss the economic incentives Iran needs to keep caps on its nuclear work in place, according to officials who'll attend the talks. Diplomats will also consider verification activities of International Atomic Energy Agency inspectors, who reported on Thursday that Iran continues abiding by its commitments.
President Donald Trump's May 8 order to withdraw from the Joint Comprehensive Plan of Action, or JCPOA, and reimpose U.S. sanctions has cast doubt over whether the deal can still work. While IAEA inspectors have reported Iran has kept below key nuclear limits imposed by the accord, Tehran's government insists remaining parties step up economic relief if they want those caps to hold.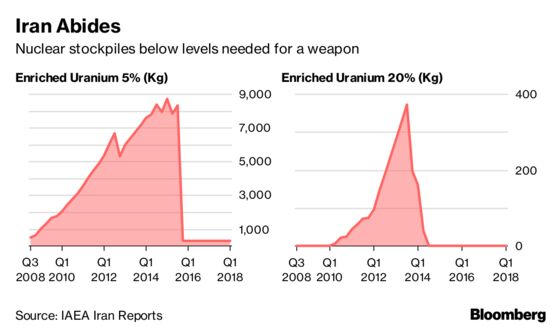 "There's little to no appetite in European capitals for the type of economic sanctions the U.S. is bringing back," Ellie Geranmayeh, a senior fellow at the European Council on Foreign Relations, said in a telephone interview. "Following Pompeo's demands there are a lot of eyes rolling and heads fuming."
Secretary of State Mike Pompeo issued a 12-point list on Monday calling on Iran to heed U.S. demands that include abandoning uranium enrichment and shutting down its missile program. Iran Supreme Leader Ayatollah Ali Khamenei responded by ridiculing U.S. demands he said are doomed to fail.
Iran continued to stand by its obligations and inspectors had access "to all the sites and locations in Iran which it needed to visit," IAEA monitors said in an eleventh consecutive report issued to member states in Vienna. "Proactive cooperation" that allows inspectors to continue their snap inspections will "enhance confidence," the IAEA said in the six-page report.
Khamenei said Iran reserves the right to expand its nuclear program beyond the limits of the accord unless European banks facilitate trade and Europeans provide assurances that they will buy Iranian oil if the U.S. attempts to disrupt crude sales. He also said they must refrain from seeking negotiations over Iran's ballistic missile program or its regional policies.
Friday's meeting chaired by the European Union in Palais Coburg -- the same Austrian landmark on Theodor Herzl Square where the JCPOA was sealed in July 2015 -- isn't expected to yield any concrete decisions. It will instead kick off intensive rounds of "shuttle diplomacy" in the weeks before U.S. sanctions resume, according to Geranmayeh, who regularly consults with EU government officials and said that Chinese and Russian finance will be required to fill the void left by the world's biggest economy.
         U.S. Sanctions Return in Two Stages
| | |
| --- | --- |
| August 6 | November 4 |
| Iran restrictions on dollar purchases | Sanctions on oil-related transactions |
| Sanctions on gold, precious metal trades | Sanctions on transactions with Iran Central Bank |
| Sanctions on supply of graphite, aluminum and industrial software | Sanctions on supply of specialized financial messaging software |
| Sanctions  on automotive sector | Sanctions on underwriting  and insurance services |
| Sanctions on purchase, facilitation of Iranian debt | Sanctions on energy sector |
Proposals to engineer financial channels around sanctions have been met with skepticism by EU states which are also trying to negotiate trade disputes with the Trump administration that could threaten U.S. exports worth more than $435 billion. By comparison, Iran is the bloc's 66th biggest trading partner with less than $24 billion of goods trading hands, according to data compiled by Bloomberg.
A critical tool the EU may be able to influence is the Brussels-based Society for Worldwide Interbank Financial Telecommunication, or SWIFT messaging service, used by banks to verify international transactions. Isolating Iranian banks from SWIFT in 2012 was key in the run-up to the nuclear negotiations that yielded the deal.
"There's going to be a lot of discussions about SWIFT," Geranmayeh said. "SWIFT is critical."