Less Than Half of U.S. Factories Expect Tariff Price Impact
(Bloomberg) -- Less than half of U.S. manufacturers think that President Trump's tariff and trade war will lead to higher domestic prices for their goods in the U.S. through 2020, according to a new survey from IHS Markit.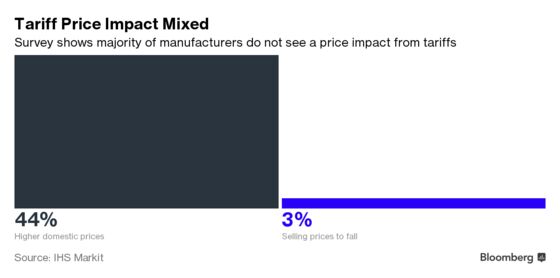 The survey data was collected October 12-26 from just over 800 manufacturing companies.
Firms were asked to respond to the following question:
"Thinking about your company's operations at home and abroad (either current or planned), what overall net impact do you expect tariffs and other trade-war related factors to have on the following over the next two years?"
The vast majority of firms, roughly nine in 10, do not anticipate relocating production back to the U.S. due to the tariffs and other trade war factors.
One beneficial impact from the tariff and trade war is seen in the labor market. Twice as many companies report that they will increase the number of domestic employees over the next two years due to the tariffs compared to firms that will cut their U.S.-based workforce.