Left-Behind Americans Are Seeing Reversal of Hard-Won Job Gains
(Bloomberg) -- The hot U.S. job market that was pulling in struggling Americans has overnight turned cold, creating barriers to work that may persist after the coronavirus abates.
With economic growth steady up until recent weeks and unemployment at a 50-year low, more than 6 million Americans had entered the labor force since early 2016, when the jobless rate fell below 5% -- a level once seen as consistent with full employment.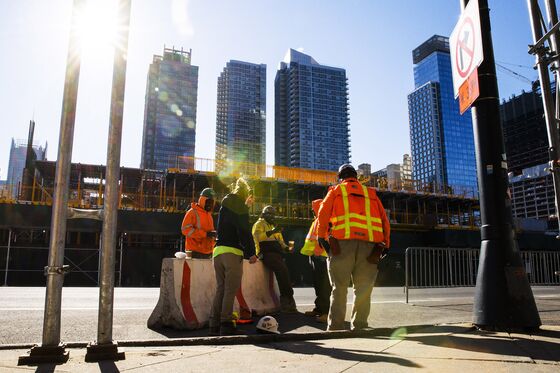 As employers reached to find workers, big beneficiaries included minorities -- black and Hispanic Americans have narrowed the gap with the overall unemployment rate in recent years -- as well as the less educated, those out of the job market for extended periods, the disabled and even those with criminal records.
Now a record surge in joblessness sparked by coronavirus-related shutdowns threatens to hit those Americans, many of whom found work in hard- hit industries such as hotels and restaurants. They will face tough competition for jobs from the recently laid off who may be more qualified.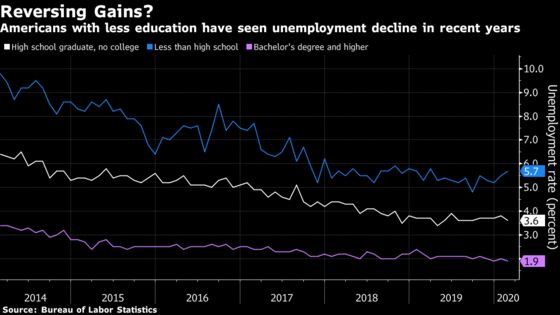 "Employers tend to shy away from hiring marginal workers," said Bart Hobijn, an Arizona State University labor economist who formerly worked for the Federal Reserve Bank of San Francisco. "Some of the gains for these workers are going to be reversed. This is true in any recession and there is no reason to believe the current recession will be different."
Federal Reserve Chairman Jerome Powell, in an interview with NBC's "Today" show Thursday, acknowledged the U.S. may be in a downturn already. Economic activity will decline probably substantially in the second quarter, he predicted, with a recovery expected in the second half of the year.
In January, Powell praised the broadening out of job gains, saying "many who have struggled to find work are now finding new opportunities." Still, he emphasized the importance of extending the record-long, 10-year expansion so that the "strong job market reaches more of those left behind."
The construction industry has been among the leaders in being creative to find new hires, such as training former inmates for skilled jobs, but those prospects have diminished.
"Contractors will have a hard time coming up with enough cash to pay current employees, let alone hire more," said Kenneth Simonson, chief economist with Associated General Contractors of America.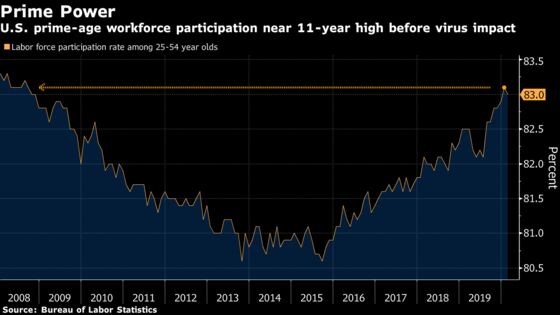 The Delancey Street Foundation, based in San Francisco, teaches job skills to former convicts and recovering drug addicts who live at its facilities in six cities. One of the requirements for graduating from the program -- which takes years to complete -- is to land a job and keep it for months while building up a small savings, said Delancey Street President Mimi Silbert.
About 50 recent graduates of the San Francisco facility have called to say they've lost their jobs. "All of them call up and say, 'Do you want any help?"' she said. "I say, 'You can come over and have dinner.'"
Many of the jobs that disappeared were in hotels or restaurants, or otherwise connected to San Francisco's tourism industry, which started feeling the effects of the virus weeks before city leaders ordered most businesses to close.
When that order lifts, Silbert wonders how many of those jobs will return. "There's not going to be the opportunities," she said. "I myself am terrified."
The outlook for less-skilled workers depends in good part on the pace of the eventual rebound. If businesses are slow to rehire and invest -- or consumers are reluctant to spend in the wake of the health crisis, with concern over a recurrence later in the year -- hiring managers could be choosy in winnowing applicants who may be less-than-perfect fits.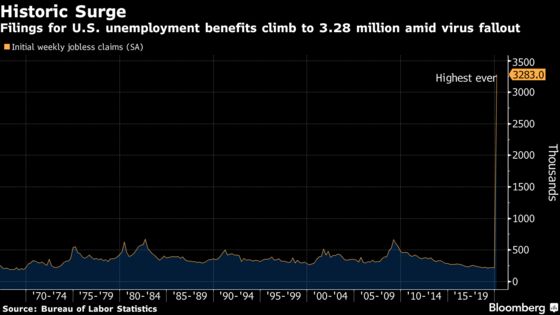 "The problem is if our contraction lasts long after we have the virus under control," said Betsey Stevenson, a University of Michigan economist who was the U.S. Labor Department's chief economist in the wake of the 2007-2009 recession. "In this situation it's likely that lower wage workers and those who are hard to employ are some of the hardest hit."
Unemployment is poised to leap in the second quarter, and could reach 30% by the estimate of St. Louis Fed President James Bullard.
Many of the jobs lost have been in food service, "which is a high turnover, low entry-barrier industry that employs a lot of the marginally attached workers," said labor market economist David Wiczer at Stony Brook University in New York. "Add to that retail trade -- New York City is a ghost town at street level right now -- and you start to think this is going to hit the lowest rungs hardest."