Lebanon on Debt Tightrope as S&P Sets Clock Ticking to Downgrade
(Bloomberg) -- Lebanon bought itself some time with the market and won a reprieve from a downgrade deeper into junk by S&P Global Ratings.
The relief may not last. While some investors are turning more confident that Lebanon will maintain its unblemished record of paying creditors, S&P on Wednesday highlighted vulnerabilities that could still put one of the world's most indebted countries to a test.
After originally giving Lebanon up to a year to stabilize its finances, S&P said that a continued decline in bank deposits -- a key source of the government's funding -- could trigger a downgrade to the CCC category already during the next six months.
"While Lebanon's FX reserves remain sufficient for immediate financing obligations, they may not be adequate to cover significant outflows of nonresident and resident deposits," S&P analysts led by Zahabia Gupta said in a report.
Lebanese dollar bonds, the worst performers across emerging markets this year after crisis-hit Argentina and Zambia, rallied this week, fueled by a renewed government commitment to urgently repair public finances and an addition of $1.4 billion to central bank reserves.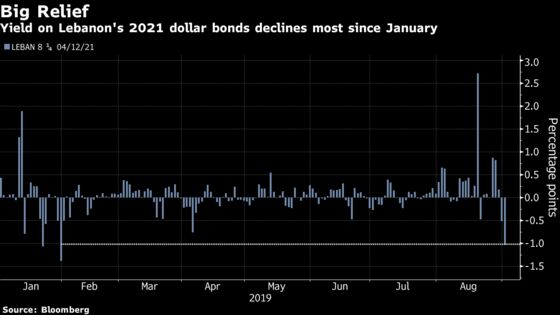 But even as Lebanon's credit-default swaps have dropped from their record highs this week, they remain well within distressed territory.
The new deposits announced by the central bank may be a "vote of confidence" but they are hardly a game changer, according to Patrick Wacker, a fund manager for emerging-market fixed income at UOB Asset Management Ltd. in Singapore.
"The amount by itself is relatively modest and unlikely to move the dial," he said. "A sustained drop in depositor confidence is a key risk as Lebanon is heavily dependent on its diaspora for remittances."
S&P's countdown will expire days before the first of four Lebanese Eurobond issues comes due in March, the next pressure point for a government whose options to raise money are limited. Fitch Ratings cut Lebanon's credit ranking last month to CCC, one level lower than Moody's Investors Service.
Although Governor Riad Salameh said the central bank had already set aside $1.5 billion to cover in cash on behalf of the government the next maturing Eurobond in November, Lebanon also has to repay a total of about $4 billion in 2020.
Under S&P's definition of usable reserves -- which excludes assets not readily available for balance-of-payments purposes -- Lebanon only has enough to cover about 42% of short-term debt, far short of the 100% threshold that the rating company said is the generally accepted minimum adequacy requirement.
Lebanon has relied on billions of dollars in deposits from the diaspora to service its public debt, accumulated following the end of a devastating 1975-1990 civil war.
But political turmoil and the conflict in neighboring Syria have combined to dry up inflows and aid from Gulf Arab allies. The recent hostilities and risk of escalation between Israel and the Iranian-backed Lebanese Hezbollah militants are also keeping the market on edge.
The government has declared a state of "economic emergency" and vowed to press ahead with plans to cut the budget deficit below 8% of gross domestic product this year from almost 12% in 2018. The International Monetary Fund estimates that Lebanon's public debt burden will rise to near 180% of economic output by 2023.
"We are waiting for concrete measures from the government to show that they are serious about fiscal consolidation and improvements in the energy sector," said Anthony Simond, a fund manager at Aberdeen Asset Management Plc in London.