Lebanon Turns to IMF as Fitch Sounds Alarm on Default
Lebanon's caretaker Prime Minister Saad Hariri said he discussed with the heads of the International Monetary Fund and the World Bank a possible plan to ease a deepening financial crisis.
Eurobonds rose after Hariri's office said on Twitter that he asked the two institutions for technical assistance for the plan, which he said would be implemented by a new government. He also asked the World Bank for help in securing trade finance to prevent any shortages of essential goods.
The comments will likely fuel speculation that one of the world's most indebted countries will eventually ask the IMF for a bailout, a move some Lebanese officials already regard as inevitable. The IMF is "open to support Lebanon's efforts with technical assistance," its chief spokesman, Gerry Rice, said. There was no immediate comment from the World Bank.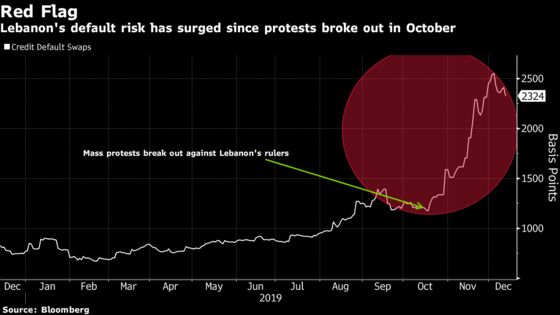 Hariri's statement came shortly after Fitch Ratings downgraded Lebanon's credit assessment deeper into junk territory, reflecting an increasing likelihood of default.
"A potential agreement with the IMF could support Lebanon's financial position and mobilize other external financing, but this would almost certainly entail some restructuring of government debt," Fitch said.
Lebanon's Eurobonds due in March 2020, the main focus of investors debating whether the government would honor its debt, rose to trade at 88.4 cents at 3:29 p.m. in London, according to data compiled by Bloomberg.
Lebanon has been without a functioning government since Hariri resigned in late October in the face of mass protests against a political establishment accused of corruption and economic management.
Hariri has said he is not interested in returning to the premiership unless he is allowed to form a technocratic government. The country's main political blocs have struggled to agree on alternative candidates, however. Hours after Hariri said he had turned to the IMF for assistance, the largest Christian bloc in parliament said it would not take part in any cabinet he heads.
Outgoing Foreign Minister Gebran Bassil, who leads the Free Patriotic Movement, said the understanding reached between Hariri and President Michael Aoun, his father-in-law and founder of the party, had failed to combat corruption and carry out basic reforms that protesters are demanding.
"If I was really a partner in the corrupt system in place for 30 years then would I have been subjected to this political assassination I am exposed to today from its pillars?" he said, suggesting that he would go into opposition.
It was not immediately clear if Hariri had agreed to form a new government or who would fill the Christian positions with the key Christian groupings now boycotting. Without a government, the economy has deteriorated rapidly.
The local currency has tumbled 30% on the black market since the protests began on Oct. 17, with businesses unable to access enough foreign currency to clear import shipments. Companies have cut jobs and salaries. Banks have put strict limits on the transfer and withdrawal of foreign currency and the central bank last week told lenders to slash interest rates. It said it would pay half the interest on dollar-denominated deposits in the local currency for a period of six months and told banks to do the same.
Moody's Investors Service said the emergency measures had forced three of Lebanon's top lenders, major holders of government debt with large deposits held at the central bank, into a "deposit default."
Other highlights in the Fitch report include:
The central bank's gross foreign currency reserves are expected to decline to $28 billion at the end of 2019, down $4 billion in the year, and continue to erode in 2020.
The drop is due to the large external financing needs.
Lebanon's public finances look "increasingly unsustainable" and the economy is expected to contract in 2019 and in 2020.
Hariri's announcement comes a day after potential donors met in Paris and urged Lebanese politicians to set aside their differences in order to benefit from international support.
"Lebanon is today in a difficult situation that requires a rapid and determined response from the Lebanese authorities first and foremost, a reaction that must be accompanied by the international community," French Foreign Minister Jean-Yves Le Drian said after the meeting.
"On the basis of the road map on which we have agreed, now the commitment of the Lebanese authorities is fundamental. It must be accompanied by the establishment of a competent government capable of rapidly implementing all the reforms required by the country's situation."
Though the protests no longer draw the numbers they did in the early days, Lebanon's uprising has grown into one of the most serious challenges to face the sectarian power-sharing arrangement that emerged from the ashes of the 1975-199 civil war.
And agreeing on a cabinet lineup may not bring immediate foreign relief. The national unity government Hariri presided over before he quit struggled to implement measures required to unlock some $11 billion in aid pledged at an international donor conference in Paris in April 2018.