Lane Says ECB Policy Strategy Can Cope With Current Slowdown
(Bloomberg) -- Want the lowdown on European markets? In your inbox before the open, every day. Sign up here.
One of the most influential European Central Bank policy makers-to be is confident that current stimulus will be enough the guide the euro area through what he considers "limited" downward revisions to the outlook.
Philip Lane, who's on track to replace chief economist Peter Praet in June, said he doesn't see Europe in a "super fragile situation." Speaking at his European Parliament confirmation hearing, he argued that the recent deterioration in data will likely lead to "reasonably small adjustments" to macroeconomic forecasts, which the ECB will release at its next policy meeting in just over a week.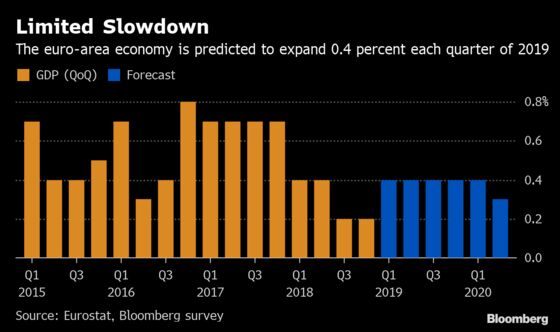 "The market is expecting the downward revisions in data to mean a slower path of normalization -- the current strategy can deal with that," he said in Brussels. "If you had a bigger shock or more persistent shock -- so unemployment started to go up again and inflation started not only to go more slowly but actually to go into reverse -- the current strategy also indicated that above all else we're committed to reaching the target over the medium term."
Lane, who currently leads the Irish central bank, addressed a concern that has unsettled investors and economists for months: whether or not the ECB has the firepower the counter a more protracted downturn that seems increasingly possible amid bleak economic reports.
His comments signal a slightly more optimistic stance to that of Praet, who said last week that "it is too early to say" how much activity will rebound and outlined options for how the ECB could respond to a deeper slowdown. Lane, too, stressed that policy makers aren't out of options.
"Although we've deployed certain instruments, I don't think it's anywhere near the case that the ECB has hit all limits," Lane said.
His candidacy to join the ECB's Executive Board was endorsed by European lawmakers on Tuesday, following approval by euro-area finance ministers earlier this month. If confirmed by governments, he will start his eight-year term in Frankfurt on June 1.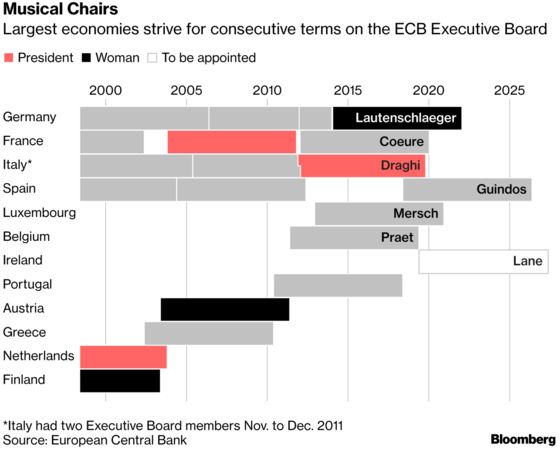 When the Governing Council holds its policy meeting on March 7, officials will have access to new projections for growth and inflation that will reflect the impact of a recent recession in Italy and an industrial slump in Germany.
A cut to the 2019 forecast will be the third in a row, after downward revisions in September and December -- a trend highlighting the importance not to lose sight of the bigger picture even when individual adjustments seem small.
The ECB has repeatedly pointed to external risks and uncertainties as factors weighing on momentum, but stressed at the same time that domestic demand continues to support employment and consumption.
"We are seeing upward wage pressures, so if you like, we remain confident that the underlying mechanisms that would lead to improving inflation performance over time are still active," Lane said.