ECB Officials Warn Not to Overreact to Single Data Points
(Bloomberg) -- European Central Bank officials warned against overreacting to individual points of incoming data when setting monetary policy as the current environment is highly uncertain.
While the ECB has acknowledged a shift to the downside in recent weeks, the domestic euro-area economy remains "pretty strong," according to Irish governor Philip Lane, who is currently running for a seat on the institution's Executive Board. His comments were echoed by Germany's Jens Weidmann, who told students in Pretoria that the region is going through a "soft patch" and there "are good reasons" to believe inflation is still on track toward the ECB's goal.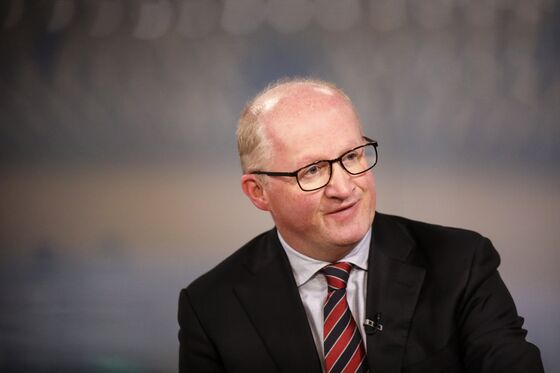 "We will have new comprehensive forecasts in March and at that point I think the ECB can decide where next," Lane said. He later added that remark was "no signal whatsoever about decision making."
Speaking in an interview with the Financial Times published Tuesday, Dutch central banker Klaas Knot said a wait-and-see approach is "probably the optimal attitude" for the ECB right now. The economy is going through a phase of weaker growth, which may cause a "slight delay" in the build-up of inflationary pressures, but will return to growth rates "slightly above potential."
The comments suggest policy makers still view the current slowdown as temporary in nature.
Manufacturing across the region has slumped and business sentiment is subdued, adding to fears that the global economy is slowing sharply in the first few months of 2019. President Mario Draghi said last month risks have moved to the downside as he pinned the blame for the soft patch on the external factors such as rising protectionism, Brexit and weakness in China.
"It is even more important during these periods to make a close study of the data because what we have is I think different signals," Lane said. "It is early days in 2019, we have to not over react to any particular announcement or new data release and really take a measured approach to all of the data," he said.
Recession talk in the euro area is "clearly premature," according to Knot. The ECB has to be patient and "modest with respect to the precise moment" when inflation reaches its goal of just under 2 percent, he said, adding that policy makers "are not there yet" when it comes to deploying new measures to stimulate the economy.
Austrian Governing Council member Ewald Nowotny also spoke on Tuesday, and said that the ECB will revisit its plans for interest rates "in the summer." The ECB's guidance currently allows for a rate increase as early as in the fall.