Laggard Rupee Poised for Strong Rebound Next Year, Mizuho Says
(Bloomberg) -- A more muscular Indian economy and the likely fizzling out of the dollar rally next year may help the rupee shed the tag of Asia's worst-performing currency, according to Mizuho Bank Ltd.
The currency will strengthen around 7 percent to 64 per dollar by the end of June 2019 from current levels, aided by an improvement in government finances that have been hit by high oil prices, the lender forecast. That's the most bullish estimate among 26 analysts surveyed by Bloomberg, and compares with the median consensus of 68.39.
"Incrementally, things are not likely to be as bad in 2019 as they are in 2018," said Tirthankar Patnaik, chief strategist at Mizuho in Mumbai. India is in a "much better place today than in 2013" during the taper tantrum, so, whenever things stabilize, the rupee will rebound in a big way," he said.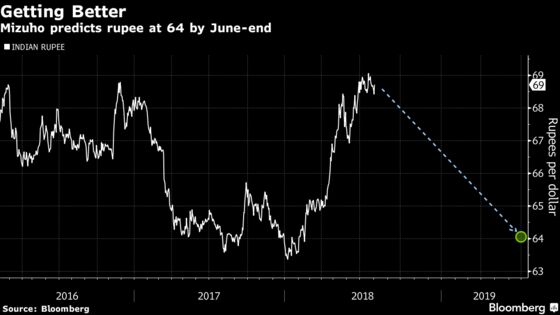 The Reserve Bank of India's tighter monetary policy will also help stabilize the rupee in the short term, Patnaik said. The central bank raised the benchmark rate to the highest in two years on Wednesday to shore up the currency and curb inflation pressures in the world's fastest-growing major economy.
Even so, the reversal in the rupee's trajectory will likely be preceded by further declines, Patnaik said. The currency is likely to fall to 69.80 per dollar this quarter, a record low, amid rising U.S. interest rates and risks from the global trade and currency tensions. The rupee has already dropped 7 percent against the dollar so far this year, the worst performance in Asia.
"The rupee will face pressure in the next one or two quarters but after that, the strong dollar thesis will go for a toss," Patnaik said. "The dollar will weaken as U.S. growth comes off, and that will be one reason emerging-market currencies will see some rebound."