Lagarde Says EU Must Stand Together in Fight Against Virus Shock
(Bloomberg) -- European Central Bank President Christine Lagarde said it is "highly desirable" that politicians come up with a common response to the economic havoc created by the coronavirus, or they risk fragmenting the euro zone.
Speaking in a webcast about the pandemic, Lagarde said a "swift, sizable and symmetrical" European tool to fund the recovery is necessary, and that ECB will "play its part."
"Since no one is to blame for this crisis, we must ensure that there are no undue constraints on our policy responses," Lagarde told an online audience. "Otherwise, we risk widening asymmetries and exiting this crisis with greater economic divergence."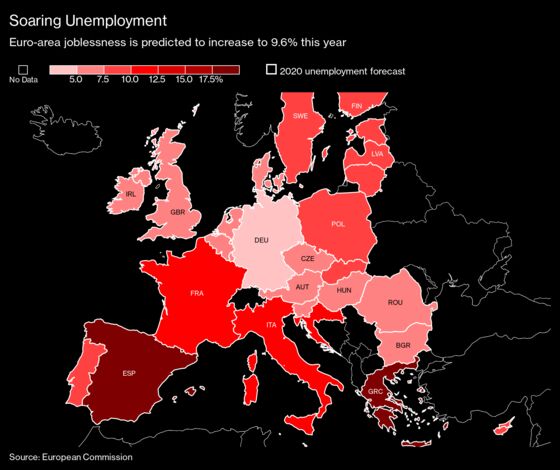 Officials in Brussels predict the worst recession in the European Union's history this year, and they've warned that an uneven shock across the euro area threatens the stability of the currency bloc.
Central banks have been at the forefront of supporting their economies in the face of the pandemic, which has shuttered businesses and put millions of people out of work.
Governments have also deployed trillions of euros to support companies and households, but most action has been at the national level, with attempts to broker a joint approach mired in disputes.
Leaders have asked the commission to present a plan that builds on the bloc's common budget as a way of funding an economic recovery, yet countries are split on whether aid should be in grants or loans. Italy and Spain have argued for European solidarity, while Germany and the Netherlands have led opposition to joint debt.
Lagarde said the ECB's central scenario suggests that additional debt issuance due to the pandemic will be in the range of 1 trillion euros ($1.1 trillion) to 1.5 trillion euros in 2020 alone, equivalent to more than 10% of the economy.
The ECB has already added a 750 billion-euro bond-purchase plan and new bank-lending programs to its toolkit to make sure credit keeps flowing to companies despite lockdowns.
Germany's top court cast a shadow over its efforts on Tuesday though, ruling that an older and bigger asset-purchase program is potentially unconstitutional. Judges issued a three-month ultimatum for policy makers to justify their actions or risk seeing the Bundesbank be barred from participating.
Read More...
EMEA WEEK AHEAD: Exiting Lockdown, Data to Show Start of Slump
Lagarde didn't refer to that ruling but said the ECB "will do everything necessary within our mandate to support the recovery and we remain undeterred in delivering on our price stability objective."
She said a common European fiscal response -- in addition to delivering the necessary support during the crisis -- will allow the continent to reset its priorities.
"We have been given a chance to take a leap forward: to reimagine our social contract, reconsider Europe's strategic autonomy, and recognize the risks of not taking the environment seriously," she said. "These are all areas where acting together is in our common interest."