Lagarde Says ECB Must Be Agile to Fight Economic Slowdown
European Central Bank presidential nominee Christine Lagarde pledged to act with "agility" against inflation that is persistently too low, signaling that she'll follow Mario Draghi's example in finding ways to keep monetary policy exceptionally loose.
In a hearing at the European Parliament in Brussels over two and a half hours, Lagarde said the 19-nation euro zone must tackle near-term risks mainly related to external factors. At the same time, she said the ECB must be mindful of the potentially negative effects of its unconventional policies and take people's concerns about them into account.
"The challenges that warrant the ECB's current policy stance have not disappeared,"said Lagarde, who ran the International Monetary Fund for the past eight years and is due to take over at the ECB on Nov. 1. "A highly accommodative policy is warranted for a prolonged period."
Lawmakers endorsed her bid for the ECB presidency in a vote late Wednesday.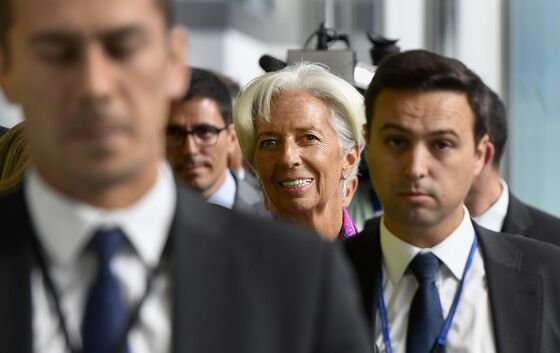 The former French finance minister is set to inherit a deeply divided Governing Council at a time when the euro-area economy is suffering from global trade tensions and uncertainties over Brexit. Draghi is expected to unveil another interest-rate cut next week, but a number of policy makers including Bundesbank President Jens Weidmann and Dutch governor Klaas Knot have spoken out against any resumption of bond purchases.
France's Francois Villeroy de Galhau joined the skeptics late Tuesday when he questioned the merits of a new round of quantitative easing, though he left open the question of whether he'd still back a package that includes them.
Failure to deliver sizable stimulus could hit markets, with investors pricing in at least a 10 basis-point cut in the deposit rate. Banks including Goldman Sachs, Nomura and ABN Amro have all penciled in a new round of QE.
Lagarde acknowledged the importance of investor expectations, but said policy makers must think more widely.
"The ECB needs to listen and understand markets," she said. "It need not be guided by markets."
"Lagarde's comments about market expectations could have important implications in the future," said Frederik Ducrozet, global strategist at Banque Pictet & Cie. "She's right in the sense that a central bank should resist market pressure, but the risk is that inflation expectations fall further, forcing the ECB to do more, which she would have to justify."
In a nod to critics who say the current suite of stimulus measures has inflated asset prices while hitting savers and weakening bank profitability, Lagarde said "we have to take the concerns of people seriously."
She repeated Draghi's frequent insistence that countries with room for spending -- such as Germany -- should use it, and called for a European-level fiscal capacity.
"We need to further institutionalize cooperation rather than trust it will emerge in crisis times," she said.
The wide-ranging questions from legislators included demands for Lagarde's views on green finance and the institution's inflation goal.
The 63-year-old endorsed the idea of reviewing the institution's price-stability target, saying that the vagueness of a goal of "below, but close to, 2% over the medium term" might be appreciated by central-bank officials, but is probably unclear to the wider public.
She also wished never to be in the position that Draghi found himself in 2012, when bond yields in stressed economies were soaring and the euro zone was a risk of falling apart, and he was forced to pledge to do "whatever it takes" to keep the union together.
"I hope I never have to say something like that. I really do," Lagarde said. "Because if I had, it would mean the other economic policy makers are not doing what they have to do."
Read more...
Lagarde Hopes Never to Make Draghi's 'Whatever It Takes' Pledge