Lagarde Defends ECB Economic Outlook Even as Banks Cut Forecasts
(Bloomberg) -- The European Central Bank's latest projections for economic growth in the euro area are still "very clearly plausible" despite the resurgent coronavirus and renewed lockdowns, President Christine Lagarde said.
The ECB chief said that many of the uncertainties that previously clouded the outlook have now cleared, including U.S. elections, the Brexit trade deal with the U.K., and the start of vaccinations. At the same time, she warned that monetary and fiscal support must continue.
Projections for a rebound of 3.9% this year are based on assumptions "which we believe are still correct today," she said in an online event organized by Reuters. "We start on a more positive basis than some would like to look at."
Numerous banks have downgraded their euro-area forecasts in recent days to account for renewed pandemic restrictions, which in some places are tougher than ever. They've generally erased expectations for first-quarter growth and are instead predicting a second straight quarter of contraction, tipping the region into a double-dip recession.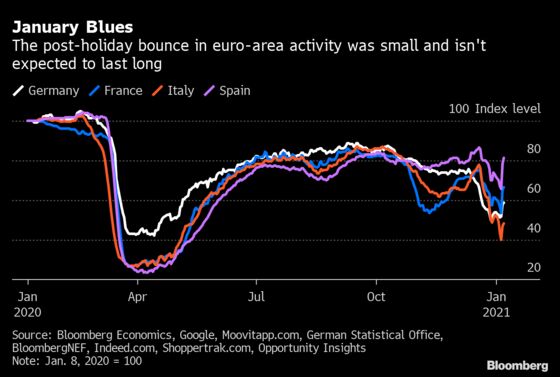 High-frequency indicators tracked by Bloomberg Economics showed a small bounce in activity in the first week after the holidays, though few see that as likely to continue.
GLOBAL INSIGHT: Activity Lags After Post-Holiday Rise
Lagarde said the ECB's outlook, last updated in December, assumed lockdowns would last until the end of the first quarter.
"What would be a concern would be if, after the end of March, those member states need to continue having lockdown measures," she said.
The ECB meets to set policy next week. At its last policy session in December, the Governing Council extended its emergency bond-buying program to March 2022. Officials added a caveat at the time, explaining that the 1.85 trillion euros ($2.25 trillion) pledged might not need to be used in full.
"If the envelope that we have agreed upon is excessive and we don't need the entire envelope, so be it," Lagarde reiterated on Wednesday. "If more is needed, we will recalibrate."
The president also said policy makers will be "extremely attentive" to the rise of the euro against the dollar, which pushes down on inflation by cutting import costs.
In her wide-ranging conversation, Lagarde also blasted Bitcoin for enabling "funny business," and addressed the ECB's strategic review which is due to start unveiling conclusions around the middle of the year -- but declined to be drawn on how the inflation goal of "below, but close to, 2%" might be changed.
On Bitcoin: "For those who had assumed that it might turn into a currency -- terribly sorry, but this is an asset, and it's a highly speculative asset which has conducted some funny business and some interesting and totally reprehensible money-laundering activity"
On a central bank digital currency: "I think we will have a digital euro" but it's going to take quite some time to make sure it's safe
On inflation: it's clear the pandemic "had a downward impact on price levels," but "we shouldn't write off inflation"
On the inflation goal: "We clearly want to arrive at a degree of clarity and predictability which in our view should be accepted by the eurosystem -- clearly communicated so that everybody understands what this inflation objective we have is about"
On inflation measure: we

hope

we "will be better able to account for housing costs" in price growth