Lagarde Sees No Need For ECB Response to Coronavirus Yet
President Christine Lagarde led a chorus of European Central Bank officials saying they are watching closely the spread of the coronavirus but don't currently see the need for a monetary-policy response.
Policy makers are monitoring the situation "very carefully" though they don't yet judge that the outbreak will have a lasting impact on inflation, Lagarde told the Financial Times in an interview published Thursday. Echoing that view, Vice President Luis de Guindos said that it's "important not to overreact."
Joining them late on Thursday, chief economist Philip Lane said a priority is continuously assessing the economic and financial implications of the evolving situation.
"The more quickly is the virus contained, the smaller will be the impact on the world economy and the faster will be the recovery," he said in London. "Conversely, more widespread contagion and a longer interruption in normal economic activity constitute additional downside risks to near-term projections."
The central bank will have to determine if it will be a "long-lasting shock" affecting supply and demand as well as price growth, Lagarde said. The next chance for officials to make that assessment is in two weeks at the Governing Council's policy gathering, where officials will be presented with updated projections for growth and inflation.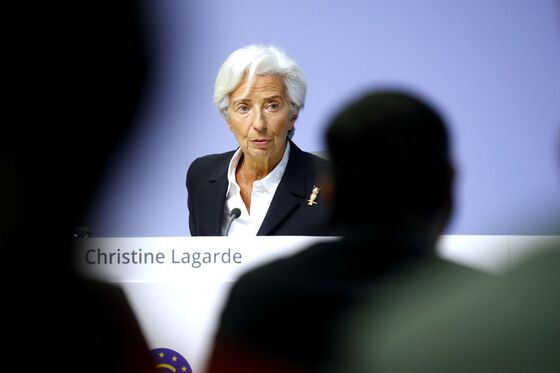 The region has suffered a protracted manufacturing downturn that now seems at risk of worsening, as businesses across the globe suffer from virus-related supply chain and trade disruptions. Large swathes of Italy's industrial heartland have been shuttered by an outbreak there.
In its last forecast round in December, the ECB expected the euro-area economy to recover in the course of 2020. Lagarde said the central bank's base-case scenario still assumes a virus "containment in reasonably short order."
"I was very pleased to see that the numbers in China on deaths relative to contagion seem to have declined for the third or fourth day, which seems to indicate that there is a degree of improvement," she said.
Guindos, speaking in Seville in southern Spain, said he currently sees a short-term impact in China. In Europe, the "central scenario" is a "V-shaped" trajectory with a recovery, he said.
"Overreactions in such events that generate uncertainty have sometimes a bigger impact than the event itself," he said. "The only thing we need to be afraid of is unjustified alarm."
Earlier on Thursday, Executive Board member Isabel Schnabel said very little is yet known about the potential medium-term implications of the outbreak. She urged patience in reaching the inflation aim amid heightened shocks to the economy.