Lagarde Says All the Blame Can't Be Dumped on ECB Negative Rates
Christine Lagarde said the European Central Bank shouldn't be scapegoated as the sole driver of rising house prices and weaker bank profitability, pushing back against criticism about its ultra-loose monetary policies.
The ECB's deposit rate has been below zero for more than five years and looks likely to stay there for years to come, spurring concern about the negative side effects.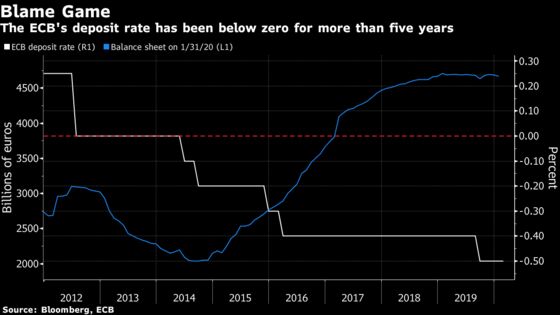 Speaking to the European Parliament on Thursday, Lagarde said policy makers will pay "very close attention" to the issue, but won't accept all the blame.
"I wouldn't draw the conclusion that our current monetary policy has actually been the main factor in the rise of housing prices, has actually been the main factor in the declining profitability of some banks," she said. "It may have contributed, but I don't think it's a given conclusion."
If Lagarde isn't willing to take full blame for the negatives, she balanced that out by acknowledging the ECB wasn't the sole savior of the euro area.
Referencing her predecessor Mario Draghi's repeated comments on the performance of the euro-area labor market since the financial crisis, she said monetary policy was just one part of the picture.
"We keep referring to the creation of jobs, and I'm not going to use the 11 million jobs created since 2013 because monetary policy was one of the several contributing factors," she said. "But clearly, monetary policy as it stands can claim a portion of the job creations."