Merkel's Stimulus Vow Sets Up EU Battle for Reconstruction Funds
German Chancellor Angela Merkel's pledge to back a huge reconstruction package for the European Union left officials in Brussels to settle a dispute over how more than 1 trillion euros of funds should be disbursed.
EU leaders inched toward an agreement on their rebuilding plans during a videoconference on Thursday but haven't yet resolved their differences over whether member states will be given grants or loans. France and Spain are leading a group demanding the recovery is funded via handouts from a supercharged EU budget while the Netherlands and Austria are among those insisting the additional funds should take the form of low-interest loans.
"Real budget transfers will be needed, not just loans," French President Emmanuel Macron told reporters afterward. "If we let down a whole part of Europe, it's Europe as a whole that will fall."
With more than 100,000 fatalities in the region, Europe has been hard hit by Covid-19 and the fallout from the crisis has exposed longstanding divisions over who pays for what. Strict lockdowns have shuttered factories and halted travel, pitching the bloc into the worst recession in living memory while leaders have been arguing over how to spread the financial burden of the rebuilding effort.
Commission President Ursula von der Leyen told the call that not even in World War II there was such deep contraction in output as the one expected this year and only in the Great Depression would they see anything of similar magnitude, according to two officials. The commission was asked to come up with a compromise proposal by May 6, she said.
"There will certainly be a sound balance between grants and loans and this is a matter of negotiation within the group," she said.
According to Portuguese Prime Minister Antonio Costa, four nations were staunchly opposed to including any kind of grants in the recovery plan, though Germany was not among them. "It was a country that had an open and constructive posture in this negotiation," he said.
Merkel's commitment to expanding the EU's seven-year budget came after European Central Bank President Christine Lagarde told heads of government that the euro-area economy could shrink by as much as 15% this year as a result of the pandemic and they risk doing too little, too late, according to three people familiar with the remarks.
"We'll have to expect higher contributions to the next budget," the chancellor told reporters afterward in Berlin. "Substantial investments will be necessary."
The group endorsed a short-term 540 billion-euro ($580 billion) plan to support businesses and economies from the immediate fallout from the coronavirus, EU Council President Charles Michel said in a press conference. But leaders still failed to make much progress on the longer term rebuilding program with member states split on how to spread the financial strains.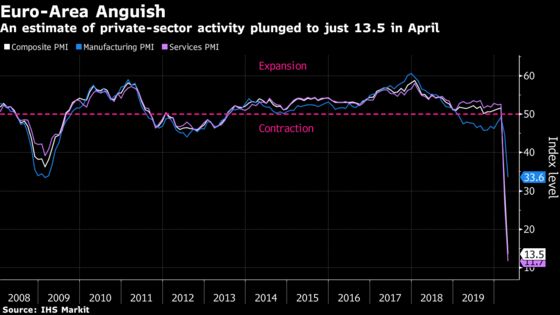 Macron and Spain's Pedro Sanchez insisted that any aid would need to be grants, not loans, which would just contribute to member states' debt load, officials said. Sanchez said that grants would avoid overburdening the public finances of countries worst hit by the virus and would bolster European solidarity, one of the officials said.
On the 10th anniversary of Greece's first request for a bailout from the EU, Prime Minister Kyriakos Mitsotakis urged leaders to take their cue from Lagarde and avoid the mistakes of the past, according to officials. He said authorities responded too slowly back then and it had proved to be an error to pile more debt onto the Greek state.
One sign that the countries are nevertheless inching toward a compromise came from Italy's Giuseppe Conte. Conte's country has been the hardest hit so far by the coronavirus and its public finances were already in the most perilous state before the infections began.
But in a divergence from his allies in Paris and Madrid, Conte signaled he'd be prepared to accept at least some of the aid provided as loans.
Economic data earlier on Thursday illustrated the challenge leaders face. Measures of private-sector business activity plunged more than expected to an all-time low and signaled record job cuts. Corporate and consumer confidence slumped in the bloc's biggest economies.
"We cannot continue like we did before," Merkel said.