Lagarde's Mild Rates Pushback Reflected ECB Council Agreement
The European Central Bank's Governing Council advised President Christine Lagarde to emphasize their guidance on when to raise interest rates but to stop short of saying that investors' bets on a hike are wrong, according to officials familiar with the matter. 
Policy makers argued that markets might have different views on inflation than the central bank, and given high uncertainty around the outlook, an outright pushback could backfire, the officials said on condition of anonymity because the deliberations are private. 
All policy makers agreed that current market pricing showing interest-rate increases next year is unfounded.
That background provides context to Lagarde's insistence that she didn't want to judge investor bets, comments that some analysts suggested showed a lack of conviction. 
"Are markets ahead of themselves? Not for me to say. What I have to do and what I have to assess is the validity of our analysis, and then testing our analysis once we have determined that it was correct against the conditions for our forward guidance."

--Christine Lagarde, ECB press conference on Thursday
Her reaction prompted investors to hold onto predictions that the ECB will raise borrowing costs next year, a move that would amount to a dramatic switch in stance from the ultra-loose emergency settings that policy makers have pledged to keep in place until March. 
The euro erased its losses as she spoke, and was trading 0.7% higher against the dollar as of 6:23 p.m. in London. European government bonds slumped, with the yield on Italy's 10-year debt rising 11 basis points to 1.049%.
Officials also agreed that Lagarde should send a message that current conditions would allow pandemic bond purchases to end next March as planned, which she then did so explicitly.
An ECB spokesman declined to comment on Thursday's deliberations.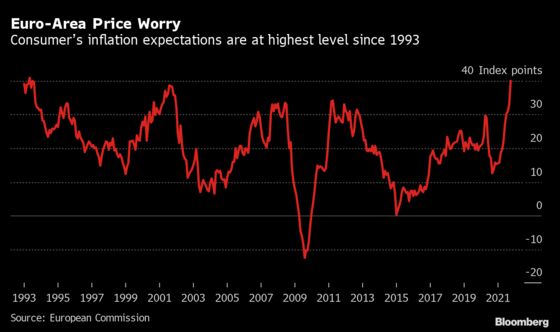 Lagarde's encounter with reporters was within hours of investors doubling down on bets of a rate hike. While that may reflect a global environment where central banks from the U.K. to New Zealand are pivoting fast toward tightening, the ECB president said such comparisons were "odious."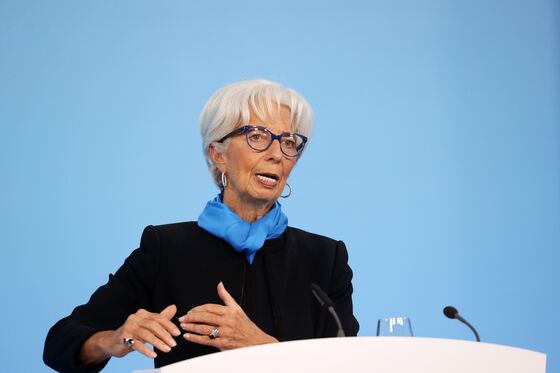 "The outlook is different, the level of inflation that they have is different, some of them are either at or above target already," she said. 
The decision on Thursday was slated as a quiet prelude to December's showdown over the future of emergency stimulus. Lagarde, however, found herself in the spotlight of market attention with a flurry of bets that seemed to question the ECB's commitment to ultra-low interest rates. 
She spoke after the publication of data showing inflation accelerated to 5.5% in Spain, a faster-than-anticipated 4.6% in Germany, and a survey showing price expectations in the euro-zone have reached the highest since 1993. 
What Bloomberg Economics Says...

"Did Christine Lagarde do too little to push back on market pricing for interest rates at the ECB's October press conference? Sure, the European Central Bank President could have been more emphatic that a rate hike next year would be far too soon (apparently, it's not for her to say). A skirmish may have been lost Thursday, but the war was probably already won in the summer when the Strategy Review was implemented.

--Jamie Rush, chief European economist. Read the INSIGHT.
ECB policy makers expect inflation to exceed 2% target next year but hold different views on whether it will stay there in 2023, according to people familiar with the talks. 
On Friday, more statistics will be released including the euro-zone report, which economists expect to show an outcome of 3.7%, the fastest in 13 years. 
The ECB attributes half of the acceleration to energy prices, but says that the region's post-pandemic is also playing a part. 
"Recovering demand related to the reopening of the economy is outpacing supply," Lagarde said. "While the current phase of higher inflation will last longer than originally expected, we expect it to decline in the course of next year."