Climate-Focused ECB Strategy Starts to Find Focus
(Bloomberg) -- The European Central Bank is looking for ways to favor environmentally friendly bonds in its monetary policy, in a fresh bid to intensify its fight against climate change.
While "green QE" -- buying environmentally friendly bonds for political reasons -- is a non-starter, officials are focusing instead on less controversial options. A key part of that is recognizing that purchasing carbon-intensive securities comes at a risk to the institution itself.
The ECB is accepting that so-called brown bonds, to finance investments such as coal-fired power plants, could easily lose value as the world shifts toward more sustainable ways to run its economy. That gives President Christine Lagarde a way of pursuing her broad agenda without infringing on the ECB's narrow mandate to pursue price stability.
Increasing the share of sustainable bonds in its quantitative-easing program would show that the ECB is practicing what it preaches to banks: protect your balance sheet against climate risks.
"While launching a green QE could be controversial, decarbonizing their purchases so far is fully consistent with their mandate," said Frank van Lerven, an economist at the New Economics Foundation in London. "There is no gray area out there, it is sound monetary-policy management."
Another option under consideration is incentives to financial institutions to use sustainable debt as collateral when they come to the ECB for funding. Using a measure known as a haircut, that would essentially mean handing more cash to banks in exchange for green bonds than for similar brown ones.
Policy makers, executives and politicians around the world are coming under pressure from a broad coalition of activists, school children and ordinary voters to take up the fight against climate change.
Not all central bankers agree on how far their engagement should go. Bank of England Governor Mark Carney has set the agenda with repeated warnings that "the time to forestall an emergency is now." Federal Reserve Chairman Jerome Powell evaded questions this week on the Fed's role, arguing "climate risk is a very important issue that Congress has largely assigned to other agencies."
At the ECB, fighting global warming ranks highly on the president's agenda. Lagarde has launched a wide-ranging review into the ECB's policies -- including how to make its operations more environmentally friendly, and has promised to look at ways to be "even more intrusive" in corporate-bond purchases. Currently the region's central banks try to mirror what debt is being issued, the vast majority of which is not labeled as green.
CSPP Green Bond Share - By Par Value Of Holdings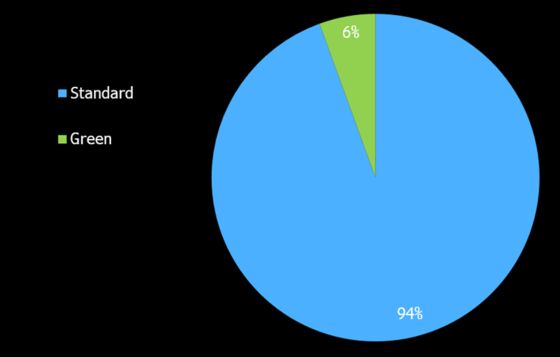 The ECB is already designing a special climate stress test for the region's lenders, and has committed to include global warming in its own economic models. It has also switched to a low-carbon index to manage its staff pension fund.
Key to many of the available options will be new European Union standards for environmentally friendly assets. Unlike private banks, the ECB can't easily make up its own rules, for fear of being dragged to court. Lawmakers agreed last year on a landmark green-finance regulation, which will be phased in from the end of 2021. The European Commission has pledged to make Europe the first climate-neutral continent.
The ECB's ideas should help soothe the concerns of policy makers who don't want to stray from their core inflation mandate. Even Bundesbank President Jens Weidmann, long a critic of radical ECB measures, has said it's "difficult to disagree that climate change is a threat to financial stability."
They also address popular demands for action. Environmental protesters marched to the ECB on Lagarde's first day in office, an advocacy group presented her with a list of demands during a December trip to the EU Parliament, and a report from Lerven's NEF last week urged policy makers around the world to purge coal-related assets from their balance sheets.
Bank of France Governor Francois Villeroy de Galhau is an advocate of that latter idea. He says an overhaul of the ECB's collateral framework is preferable to a "somewhat emotional debate" on green QE.
Lagarde has already signed on.
Speaking in Paris last week, she said she would be surprised "if in two to three years we weren't able to associate this collateral of loans with a provision for climate risks."